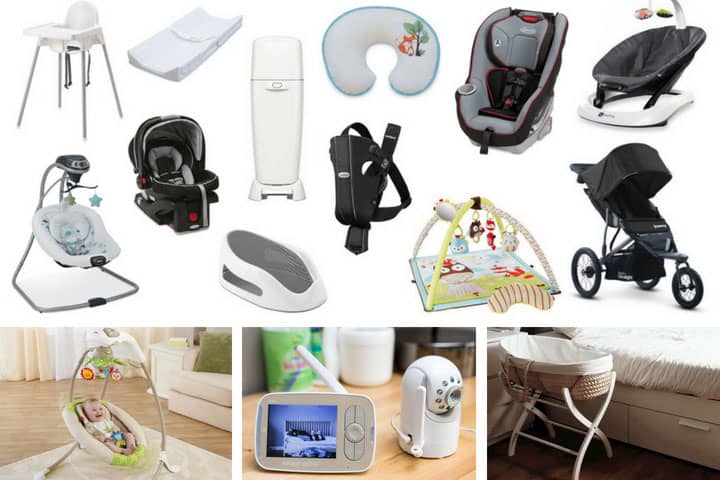 If you are preparing to become a parent soon, you likely find yourself asking why there are so much stuff for a person so tiny? However, when you start purchasing your baby gear, you will be amazed on how fun it can be, not to mention how you'll likely gape your mouth wide by the things that are too expensive. And it can even be very time-consuming, too. Many parents admit that it is like paying an entrance fee worth $1500 when you get inside any baby store. They admit that they never thought they are going to buy that much for their baby. For example, they just went inside the baby store just to buy a pacifier, but end up with an infant car seat along with you. Some even add more, such as the baby bouncer – the type that you can rock, and many other gears that you did not even realize that existed, but feel that they are very indispensable.
PRODUCTS YOU NEED FOR YOUR BABY
​If you are worried about ending up like the other parents that tend to spend so much on baby gear, you don't have to worry. You will find here tips on getting your hands on the best baby gear you can ever imagine. It will also depend on the budget that your wallet can afford, too.
The good thing about the baby gear these days is that the choices are getting better for its consumers. What's more, you can even do your shopping online. While some may even say that shopping at actual stores is better, this all depend on personal preferences. However, shopping online yield a lot of discounts as well. Worried about the shipping? Most online shops these days can only take as long as one week or less, depending on the distance from the shop to your location.
So before you go on to those brick and mortar stores, investigate the online shops first. You might get a good deal with online stores instead of the former. Or you can also check out the baby gear shop first to see the prices and compare them online. Most likely you will get a better price.
BABY STROLLER
Your biggest investment for baby gear is their first stroller. A good stroller that has a bassinet are priced from $700 and higher. If you do not want to spend that much money on a stroller, you can go with a used one.
When you buy a baby stroller, whether it is used or new, always check out the recent reviews. Even if they are mostly safe, it is not rare for some of them to get criticized because of poorly made construction. Most strollers these days come with front wheels that can be adjusted. This feature can be very practical for you depending on where you live, especially at places where it is dangerous to maneuver around. The small front wheels or the single front wheel are the ones difficult to maneuver in the snow. The stroller might even overturn in those situations, too. Whatever the case is, it is best to go with a stroller that has front wheels that are not too small or the ones that you can lock when not in use.
​INFANT CAR SEAT
​If you are sure that you are going to give birth to your baby at home, you will not need the infant car seat. However, if you are going far away somewhere, there is a need for one. And you don't know how things will turn out after that. So there is no harm in investing in an infant car seat now.
Keep in mind that you should not compromise the infant car seat. Experts and other parents do not recommend that you buy a used one. You have no idea what kind of damages that the used car seat has, such as the one that got into a mild car crash or that it is way too old that they have no use for it anymore? The best way to go with this is to go for the brand new ones.
But that won't be enough. You also need to check out the recent safety reviews for infant car seats. This will give you ideas on which one you should get since the experts are going to detail all features that the car seat must have.
​CRADLE OR CRIB
You will need either a crib or a cradle whether you plan to sleep together with your baby. Many babies tend to sleep almost all the time, especially when they are newborn. They will need a cozy and safe place to sleep on when they are not resting on your arms.
Most babies sleep better when they are in a cradle. The reason for this is because they feel safer when they are in a smaller area compared to a crib with a lot of room.
However, when you are on a tight budget, you should just go with the crib instead. You can make it safer and cozier for your baby by reducing the sleeping area. Make use of rolled blankets or pillows. However, you need to make sure that they don't fall on your baby while they are inside the crib, asleep or not.
Another advantage that you will get when you choose the cradle is how you can rock it. This will aid in making your baby fall asleep.
BEDDING​
​Some parents are easily tempted to buy the fluffy pillows and blankets. However, babies do not need them. This is the kind of bedding that can be dangerous for the baby. What your baby needs is a flat pillow. Your baby will always be safe with it.
​MATTRESS
​This may seem easy when it comes to choosing one for your cradle or crib. You will need to address the needs of your baby for this one and not for yours, so you are going for the firm mattress. This way, the baby can't bury their face into the mattress that easy. It is also wise to buy a new mattress rather than going for the used one since you don't know what kind of exposure it went through.
FINAL THOUGHTS​
​These are only some of the baby gear that you will need, but they are by far the most important ones to have. If you want to buy other baby gear that is not listed here, always make sure that you check out its reviews first!