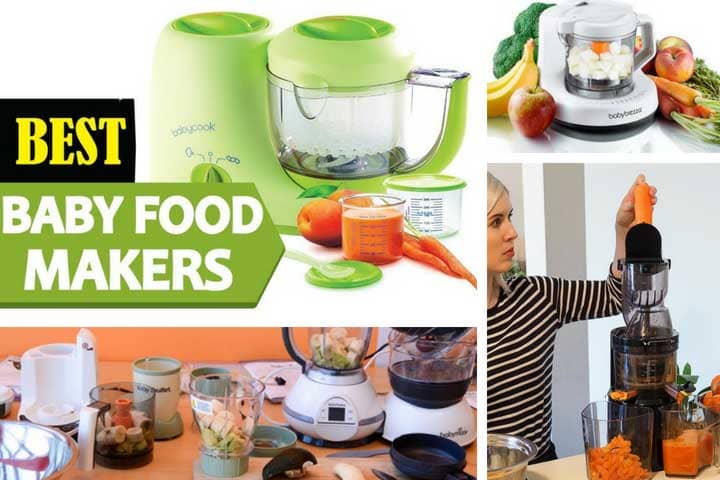 When you go to the store and see all the stuff they're peddling as baby food these days, take a good long look at the label. Say hello to excessive fats and sugars. Your baby probably shouldn't eat that crap. Especially not when they're transitioning from one of nature's healthiest food sources for babies – breast milk.
If you're following that act up, it'd better be with something healthy and delicious for the little tyke. Fortunately, you don't need to rely on your local Walmart for baby food. If you get a baby food maker, you can just make your own!
If you're not sure how, well, it's not rocket science. Look up recipes, get the ingredients together, through them in the baby food maker and you're done. It's so simple even a kid can do it. Seriously. I taught my six-year-old niece how to do it for her baby sister.
With that being said, there are quite a few of these products to choose from, so it might be challenging to find the right one for you and your needs. But luckily we're here to help you choose. We've picked out the five best baby food makers you'll find. Take a look!
The Magic Bullet, the company that reinvented the blender with their line of "bullet" blending products, brings us the Baby Bullet Baby Care System. The Baby Bullet lets you make a week's worth of baby food in the time it takes to make your morning coffee.
The Food Maker from Baby Brezza is our number two for a lot of reasons. It's got a large, 4-cup capacity, so you can make a lot of baby food in one go. It has a simple one-step process that allows you to steam and blend foods without swapping containers or changing parts.
Cuisinart's BFM-1000 Baby Food Maker and Bottle Warmer is a three-in-one powerhouse, which is why it goes in our number three slot. It's a baby food maker, steamer, and bottle warmer all at once, and it does all three of those jobs well.
Next up is the Babycook four-in-one steam cooker and blender by BAEBA. It is made to be as baby-safe as possible. It's BPA, lead, and phthalate-free, so for those diligent parents out there who pay attention to things like that, you'll love it.
Last and certainly not least, is the Bebe Baby Food Maker from Hamilton Beach. This great piece has a colossal five-cup capacity in its food processor, making it the biggest one on this list. You can make enough baby food to last you a long time with this behemoth.
The 5 Best Baby Food Maker on the Market
1. Baby Bullet Baby Care System
The Magic Bullet company is known for its awesome blending machine that has the power to obliterate even nuts into a fine powder with its super-fast blades. This is the technology that went into the Baby Bullet. It's designed to turn almost anything into a baby-safe puree.
It comes with a big capsule and a short cup, and six other small storage cups. Like all of the Magic Bullet variants, all of these cups can attach to the blade component and be put into the Bullet, so whether you want to prep a week's worth of baby food in 2 minutes flats or you need to whip up something quick for right now, the Baby Bullet is the ideal baby food maker.
The storage cups come with another really neat feature as well – a date dial. You can use it to remind yourself what day you made the food on, so you'll always know exactly how old your baby food is and if it's still fresh and safe to eat. It's really convenient if you're forgetful, and even if you're not, it's just one less thing you need to remember.
The bullet comes with the blending blade and the milling blade, adding to its versatility – so it can even handle hard things like nuts and oats. And it also comes with a spatula, batch tray and lid. The Baby Bullet is a 20 piece set that can fit almost all your food-making needs.
As if an amazing baby food maker wasn't enough, the Baby Bullet set comes with a pocket nutritionist book and cookbook to help you out with planning your baby's meals and finding the best recipes.
Finally, the Baby Bullet is very lightweight, and the entire set (excluding the power base) is 100% dishwasher safe, so clean-up is a breeze.​
2. The Food Maker from Baby Brezza
Like the Baby Bullet, one of our favorite things about this baby food maker is its massive capacity. It has the benefit of making enough baby food to last for a whole week in one quick go. That's exactly what we're looking for when it comes to baby food making devices. We want something that will enable us to make a lot at once, because as a parent it makes things so much easier.
Another thing we like is that the bowl for making food is all glass. While glass is heavier, it also means your baby's food doesn't have to come in contact with plastics, which is a big concern for a lot of parents.
Perhaps the best benefit to Baby Brezza's food maker though is its steamer. When you're making vegetable purees for baby, the steamer is a great way to cook them perfectly.
Most baby food recipes suggest steaming over any other method of cooking because it preserves the flavor and freshness of the vegetables. It also preserves all the vitamins and minerals in the veggies which would be lost through other methods of cooking.
The steam tank can be opened up and cleaned very easily and the glass bowl is dishwasher safe, so clean-up is no trouble.
The blending power of the Food Maker is intense enough to turn just about anything you can think of into a nutritious puree for your little mess-maker.
Plus it's really simple to use. There's clearly labeled buttons and you don't need to fiddle around with all kinds of settings. Just fill it up, press the on button, and you're done.​
3. BFM-1000 Baby Food Maker and Bottle Warmer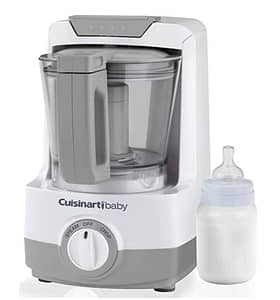 Let's just get this out of the way from the start: the BFM-1000 has a really cool name. It sounds like the kind of name you'd give a space laser or something badass like that.
Right, with that off our chests – like the Food Maker, the BFM-1000 (which we choose to believe stands for "Badass Food Maker") has a four-cup capacity, so you can make your baby food in bulk. We cannot stress enough how important it is to be able to make all that baby food in an instant. It makes a huge difference.
The bowl has a strong seal lid so there's almost no risk of it coming off or getting warped out of shape through regular use of the machine. The bowl also has measurement markers inside so you know how full it is.
The BFM-1000 has three main functions. First, it can chop or puree whatever you throw in it with its powerful motor and strong blades.
Second, it's a steamer as well as a blender, so you can use it to steam-cook the veggies you're putting in baby's food, preserving all the healthy parts.
Finally, it has a bottle warmer built in, so you can use it to make sure baby's bottle is at the optimal temperature.
The BFM-1000 comes with a spatula, recipe book, and bottle adapter ring included.
4. Babycook four-in-one Steam Cooker and Blender
The last food maker on this list was a three-in-one, and in this regard the Babycook one-ups it. It has four main functions.
Naturally, the main one is its blending power. It will turn fruits, vegetables, and even meats into a tasty and nutritious puree for the baby to nom on. The cup has a 4.7 cup capacity, people you can make over 17 servings of baby food in one go.
The Babycook is also a steamer, so you can cook those veggies and blend them at once. We've ranted and raved already about how handy having a built in steamer is.
It comes with a reheat function, so if you want to warm up your baby's food for him/her, you just pop it in the machine and press the button and voila! You've got warm baby food.
Finally, it has a defrost function. This is great for when you're working with frozen fruits and vegetables – you can pop them in the Babycook, defrost them, steam them, blend them into a puree, and reheat them when needed. Talk about a jack-of-all-trades machine!
The controls are simple and easy to use and understand, and it has an auto shut-off and audible alerts, so you can't turn it on and forget about it.​
5. Bebe Baby Food Maker
The large capacity isn't the only feature this thing's got. It's both a blender and a steamer, so like most of the others on the list, it can puree just about anything you want as well as cook baby's food. There are multiple blades, so like the Baby Bullet, you can use the blade that best fits your needs.
It comes with 10 food containers that are freezer and microwave safe, so you can store all kinds of food and reheat it with ease.
The actual cup that you use to blend and steam food is BPA free, which is another thing that we love about it. It has a lot of parts, but most of them, excluding the base, are dishwasher safe.
It's also very easy to use and comes with a baby feeding guide that gives you recipes and advice.
What to Look for in a Baby Food Maker
You're going to use this to make your baby's meals, so it should be important to find one that gets the job done efficiently and safely. Here are some things to look for when you're trying to decide on which one to purchase:​
High capacity – It's difficult being a parent. There is a lot you need to worry about every single day. Having a high capacity on your baby food maker is great because you can just take care of your child's meals quickly, and then you don't need to worry about it for the rest of the week. On that same note, that's also why it's good when these products come with additional storage cups.
Dishwasher safe – Similarly, it's a real pain to scrub and wash a bunch of big cups and bowls, which is why dishwasher safe products are ideal. You want a product that is as convenient for the parents as possible because you have enough to do as it is.
BPA-free – BPA, or bisphenol A, is a chemical often found in plastics and other things. BPA is concerning because it can seep into foods and liquids that it comes in contact with. The FDA has stated that the BPA levels found in most exposed food is negligible, but studies show it can have a negative impact on the long-term health of young children, babies, and fetuses. Go BPA-free to stay on the safe side.
Conclusion
Store bought baby food is filled with preservatives and sugars and fats. Honestly, if you can afford to, you should just buy a food maker and make it yourself. Your baby will be healthier, and you'll feel better about yourself as a parent. You obviously want your baby to be as healthy as possible – who wouldn't? Go the extra mile and try and find the best baby food maker you can get.
Besides, getting into the habit of making home-made meals is good for you too, not just your baby.