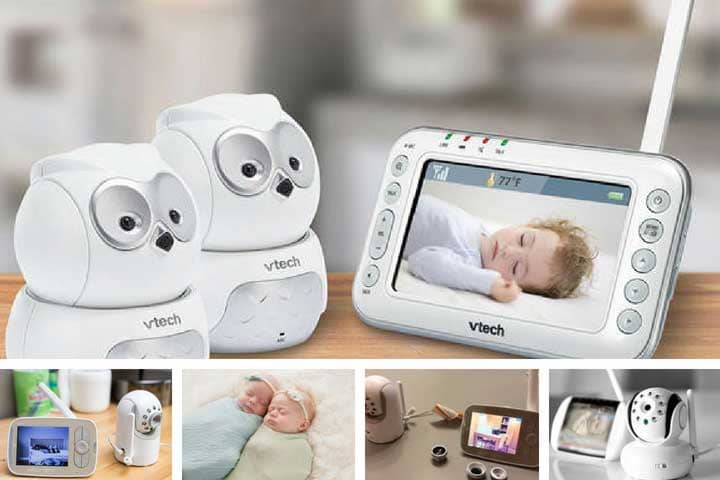 Having twins means double the fun yet double the "trouble" as well. Modern moms need not worry as there are already plenty of products like the best baby monitor for twins to help them manage their twin babies' day-to-day affairs.
Those who think that just any baby monitor would do are mistaken and will most likely end up making the wrong purchase. We've put together this quick guide to steer you towards the right direction as you search for the best baby monitor for twins.
Taking Care of Twins​
It is not all the time that twin babies are in the same place. Besides, even if they are in the same room, they might not be always side by side.
In most cases, they would be in separate cribs or rooms. In these instances, a single camera baby monitor would not be a good option.
Multi-camera baby monitors are necessary for twin babies or multiple children. Among the more popular brands and models of the best baby monitor for twins are: Infant Optics DXR-8, Motorola MBP 36s, and V-Tech VM 321-2 Safe & Sound.​
The Features
As the needs of parents with twins or multiple babies are obviously different from those who only have one baby, the criteria for choosing a baby monitor for twins would have a bit of a variation as well. Apart from the standard features of having multiple cameras and a dedicated signal, parents of twins would have to consider these important features as well:​
Scope of vision
You want a baby monitor camera that can cover the entire room if necessary. You also want to make sure that you will get good quality video even of areas farthest from your camera.
Infant Optics DXR-8 is the only one in our list with an interchangeable lens feature. There's an optical zoom lens already included in the package.If you want a wide angle lens, you can order it separately. The panoramic lens attachment offers the best option for when the babies are older and more mobile.
Range of transmission
You want to be able to monitor your babies not just from a room away from where they are. The point of having a monitor is so you can do other things around the house (or maybe even out in the yard) while they are sleeping.
The V-Tech VM 321-2 Safe & Sound has a transmission range of up to 1,000 feet while the Motorola MBP36S gives you a connection within 590 feet from the cameras. Motorola has an "out of range" alert feature that tells you when you have moved away from the transmitting unit.
Night vision
This is a non-negotiable feature that you want to look for. A baby monitor camera that does not render clear images of your baby when the lights are turned down at night will not really serve its purpose.
All the baby monitor cameras listed above have this feature. They are all equipped with infrared (IR) night vision to capture images in low light situations.
The V-Tech VM 321-2 Safe & Sound has 8 infrared LEDs for automatic detection of dim light conditions, while Infant Optics DXR-8 has invisible IR night vision.
Sound and temperature sensors
This is especially useful when you want to be alerted when your babies wake up in the middle of the night or from their nap time. You also want to be sure that the temperature in your babies' rooms is within the ideal range.
The temperature indicator feature of the Infant Optics DXR-8 tells you if you need to adjust the temperature in your babies' rooms. Its sound activated LEDs also alert you when your baby is crying and the volume of your parent unit is turned down.
Crystal clear audio
Your tiny babies can make tiny sounds as well. You want to be able to hear these sounds as cues that your babies are sleeping soundly or maybe for you to perhaps go and check on your babies.
You also want baby monitors with a 2-way communication system so you do not necessarily have to run to your babies' side at the slightest sound. You can talk to your babies even when you are in another room and soothe them with the sound of your voice.
The Motorola MBP36S has an enhanced 2-way audio system and a high sensitivity microphone. The V-Tech VM 321-2 Safe & Sound, on the other hand, makes use of the DECT 6.0 digital technology to mask out background noises and interference.
Infant Optics DXR-8 has the unique feature of having a sound activated LED indicator panel for use when you have your baby monitor's volume turned down.​
The 3 Best Baby Monitor for Twins on the Market
1. V-Tech VM 321-2 Safe & Sound
This baby monitor from V-Tech is indeed safe and sound. It makes use of the latest video and audio technologies to give you reliable feed in real time, crystal clear images and sound, and other convenient features to help you keep an eye on your babies even when you are not right beside them.
Unlike the two other baby monitor set ups reviewed above, the V-Tech VM 321-2 Safe & Sound baby monitor comes with 2 cameras and a parent console off-the-box. Among its best features are: high resolution LCD display, automatic IR night vision, 2-way talk-back function, adjustable camera lens, and an extended range of up to 1,000 feet.
Most of our readers who bought this baby monitor for twins consider their purchase a good buy. They were happy about how it was able to keep the connection/transmission even across rooms. There were some, however, who had issues with the bright lights on the cameras and the parent units.​
2. Infant Optics DXR-8
This baby monitor for twins is one of the first of its kind in the market. Its interchangeable lenses offer more in terms of focal length and angle width. It's a great investment if you are looking at using the baby monitor way beyond your baby's first year.
Infant Optics DXR-8 comes with a camera, an optical zoom lens, and a parent unit. For monitoring twin babies, an add-on camera can be purchased separately (the entire set up can accommodate up to 4 cameras.).
Our readers who have bought this baby monitor for twins were happy about its range of transmission and durability. One customer who tested this model against another brand said that it outperformed the other brand in terms of functionality and performance.
3. Motorola MBP36s
This baby monitor brand for twins from Motorola is another popular recommendation that appears in many online reviews. Its picture-in-picture display on the monitor unit allows you to see both of your babies at the same time.
Like the Infant Optics DXR-8, the Motorola MBP36s comes with a single camera off-the-box, but an add-on camera can be purchased separately. It's a wireless baby monitor that has a high sensitivity microphone, a sound-level indicator on the parent monitor panel, a 3.5" color screen with a pan, tilt, and zoom function, IR night vision, and a temperature monitor.
Parents who used the Motorola MBP36s were happy about how easy it was to set the entire system up. As it makes use of wireless technology, there are no cables to worry about. The functions on the parent panel are also easy to understand and work with.
Important Things to Consider When Choosing Baby Monitor for Twins
Getting your baby monitors for twins from trusted brands is a definite must. The manufacturers of the baby monitors that we reviewed here have been around for many years and have earned an excellent reputation when it comes to electronic equipment. From the consumer point-of-view, however, there are still some things that you want to consider.
When you finally choose the baby monitor for your twins, consider the following:​
Split Screen or Multi-Source Viewing
Some monitors only show you video feeds from one camera at a time. The best baby monitors for twins are those that allow you to see both your babies at the same time.
Aside from the multiple screens, you also have to look for monitors that give you high definition images. This will show you even the slightest movement that your babies make (i.e. their breathing).
Mounting
You want baby monitors for twins that are easy enough to mount. If you are buying a wired set up, make sure that you take safety precautions to prevent strangulation accidents.
Look for wireless models that are also portable. This way, even when you move your babies to other rooms, you can bring your monitor camera along too.
Reliability and Security
Your baby monitor for twins should give you reliable feeds all the time. Look for those that transmit signals at frequency bands with the least interference.
Check out baby monitors for twins using DECT technology. This way, you are sure that your twins' video feeds will be free of interference and are less likely to be broadcasted to other devices.
Conclusion
There are a lot of things that you need to prepare when you are expecting twins. This review of the best baby monitor for twins should help you tick one item off your list. Based on the criteria and the other considerations listed above, the V-Tech VM 321-2 Safe & Sound is the winning choice in this roundup. If you have twins and are struggling to keep an eye on both babies at all times, this baby monitor for twins can help lift a considerable load off your shoulders.