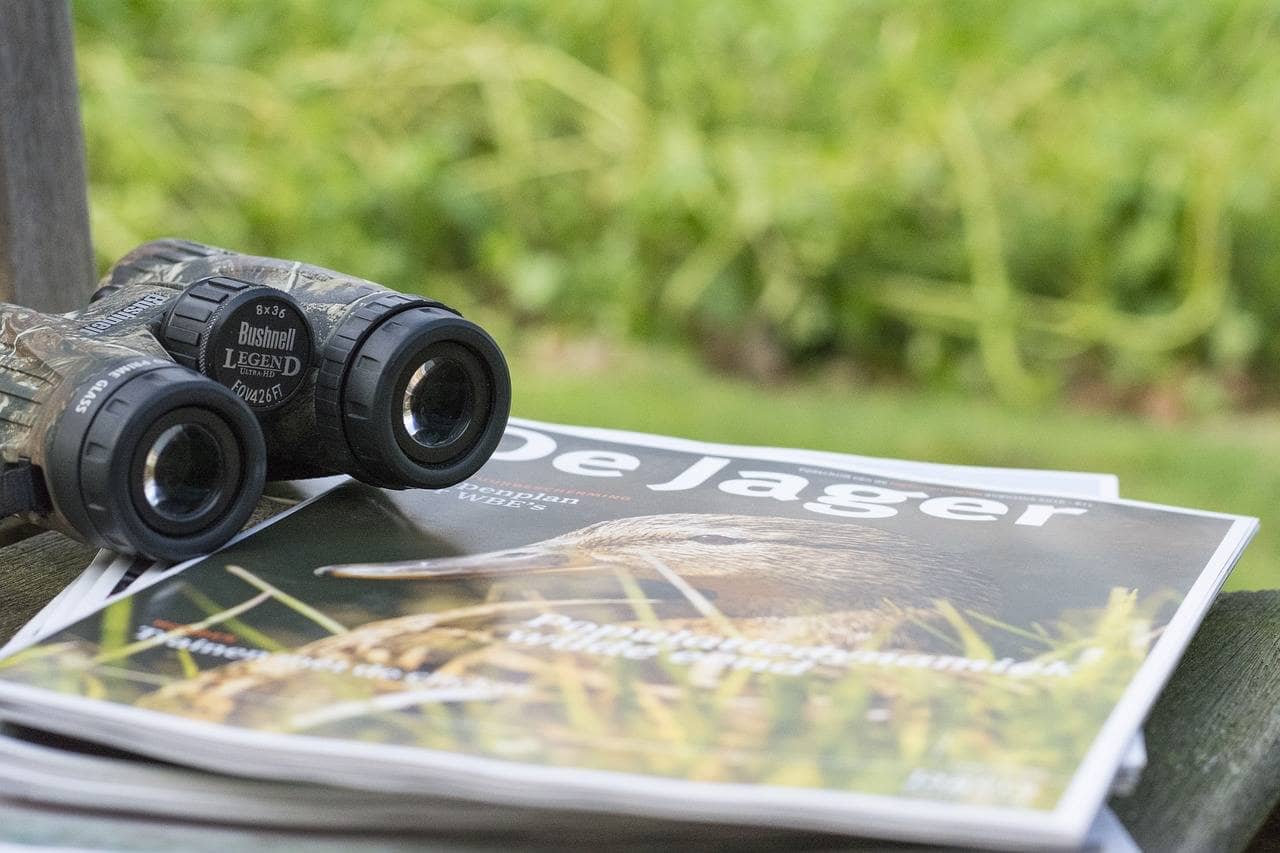 Perhaps you're scared of making the wrong purchase and wasting precious money, or you're on a tight budget, and binoculars are a splurge that you feel you can't exactly afford. Maybe you've previously looked into this and got bombarded with all sorts of terminology, like a prism, exit pupil, multi-coated lens, objective lens, etc.
Either way, the only things standing between you and your dream pair of binoculars is money and, well, information. But what if we told you that money doesn't have to be an issue? And that we can give you the information you need to buy the best binoculars for the lowest prices?
We're here to help you understand what all the lingo means and tell you about our picks for the best binoculars under $200.
Comparison Table
| Model | Magnification | Objective Lens(mm) | Weight(oz) | Field Of View(ft at 1000 yards) |
| --- | --- | --- | --- | --- |
|  Nikon Prostaff 7S | 10x | 42 | 22.8 | 324 |
|   Nikon 8252 Aculon | 10-22x | 50 | 31.7 | 341 |
| Kidwinz Original Compact 8x.21 Kids Set | 8x | 21 | 8.8 | 366 |
| Celestron-Nature DX | 8x | 42 | 28 | 388 |
| Bushnell Falcon | 7x | 35 | 21 | 420 |
| Celestron 71008 SkyMaster | 25x | 70 | 52 | 141 |
| Wingspan Optics NaturePro | 8x | 42 | 24 | 430 |
| Bushnell Legend | 10x | 42 | 23.5 | 340 |
The 8 Best Binoculars Under 200 in 2022
This section is where we walk you through our top picks for the best budget binoculars under 200$. Each model works best for a designated purpose or a few, so choose whichever model aligns with your needs.
1. Nikon Prostaff 7S – Best Overall
Nikon 16002 PROSTAFF 7S 8x42 Inches All-Terrain Binocular (Black)
as of December 4, 2023 3:47 pm
The Nikon Prostaff 7S binoculars are Amazon's Choice (and ours too). There are many reasons why it's the best overall, from its versatility to its durability.
Let's start with versatility. Where many binoculars work best for a specific purpose, this one has it all. You can use it for hiking, sightseeing, birdwatching, camping, hunting, and more. This is all thanks to its lightness and multi-layer coated lenses that ensure top-notch quality and accurate coloring.
Moreover, these binoculars' 422 mm objective diameter allows plenty of light to pass through, upping the image quality. The lens features Roof prisms that offer more brightness and contrast. Therefore, it's perfect for low light conditions. Roof prisms are typically found in pricier binoculars, so these budget binoculars are definitely a steal.
Another aspect in which these binoculars stand out is built-in quality. The model's rubber-armored body and rubberized secure grip make it durable, comfortable, and easy to hold.
As for eye relief, this model's turn-and-slide rubber eyecups are great. Whether you wear glasses or don't, you're able to adjust the distance between your eye and the eyepiece to your comfort.
Last but not least, these binoculars are waterproof and fog proof. That's because they're fully sealed and filled with nitrogen, making them the ideal binoculars for less ideal weather conditions.
Nevertheless, they're not without their faults. The lens covers are somewhat cheap and flimsy, and the neck strap can be quite uncomfortable in the long run.
Final Verdict
With the Nikon Prostaff 7S, you get numerous perks, including versatility, brightness, coloring, durability, comfort, and that's just the tip of the iceberg. It's a can't miss!
2. Nikon 8252 Aculon A211- Best Budget Pick
Nikon Aculon A211 10-22x50 Binoculars Black (8252) Bundle with a Tripod Adapter, Nikon Lens Pen, and Lumintrail Cleaning Cloth
as of December 4, 2023 3:47 pm
Coming in at a close second, the Nikon 8252 Aculon A211 is our pick for the best budget buy for a reason or ten. Its affordability is nothing compared to its practicality!
Like the Nikon Prostaff 7S, this is a very versatile model. You'll find it suitable for birding, traveling, sporting events, and stargazing all together.
The secret for its capability to see both short and long distances is its adjustable magnification power, meaning you can choose to see an object 10x closer, 22x closer, or anything in between. You can also view an animal from a distance and then zoom in for a closer look.
Another winning point for these binoculars is their comfort. Their rubber armor coating makes for a secure grip, and the rubber turn-and-slide eyecups will have you holding them for a long time without any discomfort.
Again, in Nikon fashion, these binoculars are high-quality optics. They use extra-low dispersion glass and lens multi-coating to elevate the lens clarity and brightness. In addition, the 5mm exit pupil enables them to function efficiently in low-light conditions.
Finally, the Nikon 8252 Aculon is lightweight and ergonomic. It may not be as light as the Nikon Prostaff 7S, but it's still easy enough to carry around –- as long as you don't carry other equipment along.
So far, you've probably noticed how similar this model is to the former. In fact, it almost made it to the top of our list, if not for a few issues. One of them is that it isn't waterproof, so you'll have to check the weather before going out with your binoculars. Another is the protective lens' caps that may fall off easily.
Final Verdict
We truly appreciate all that this pair of binoculars has to offer for such a reasonable price, from versatility and comfort all the way to clarity and lightness. It's genuinely the best budget pick you could opt for when it comes to binoculars.
3. Kidwinz Original Compact 8×21 Kids Set – Best For Kids
Kidwinz Original Compact 8x21 Kids Binoculars Set - High Resolution Real Optics - Shock Proof - Bird Watching - Presents for Kids - Children Gifts - Boys and Girls - Outdoor Play - Hunting - Camping
as of December 4, 2023 3:47 pm
Initially, the Kidwinz Binoculars appeal to kids for their rugged design and striking green color, but that's not to say that the insides are any less impressive.
This model's durability is a crucial feature since kids tend to be more prone to accidents. Its rubber coating is designed to absorb impact, and the eyepieces are surrounded by extra rubber coating that prevents lens damage, making it shockproof.
This model features BAK-4, a Porro prism that produces crisp, clear images. Another draw for children is the magnification strength, as they can see any object 8 times larger or closer, which is undoubtedly fascinating for their curious little minds.
Furthermore, you can fold the binoculars to match your kid's eye distance. For all this model has to offer, a downside would be that it's fast, and even focusing can be tricky to adjust. It also isn't waterproof.
Final Verdict:
We'd say that for a pair of binoculars under 25$, the Kidwinz Shock Proof's durability, magnifications, and clarity, among other features, make it the absolute best binoculars for kids.
4. Celestron Nature DX – Best For Birding, Hiking, and Hunting
Celestron–Nature DX ED 8x42 Premium Binoculars –Extra-Low Dispersion Objective Lenses –Outdoor and Birding Binocular–Fully Multi-coated with BaK-4 Prisms–Rubber Armored – Fog & Waterproof Binoculars
as of December 4, 2023 3:47 pm
What makes the Celestron Nature DX the best binoculars for birdwatching, hiking, and hunting is its wide field of view of 388 ft. You can view small animals, scan their surroundings, and narrow in very close as well.
Like our picks on this list, this model doesn't compromise quality or detail either. Its lenses are multi-coated to create a sharp, clear image. BAK-4 Roof prisms – more common in expensive binoculars- are used. Along with the lenses, the prisms allow for both close and distant viewing while capturing minute details.
As for the image clarity and accuracy, the wide lens contributes to that too as it permits more light to enter, which automatically means good contrast and exact colors.
Additionally, this model is marked for its lightness of weight at 28 ounces. Although it's not the most lightweight among our recommendations, it's still easy to carry around undoubtedly – even when hung around the neck – making it the right choice for hiking.
We'd also like to add that the Celestron Nature DX is anti-fog, waterproof, and moisture-proof. Like the Nikon Prostaff 7S, the binoculars' body is filled with nitrogen, which lifts the fog. And the casing will neither be damaged by moisture nor rain.
It's very difficult to be critical of these binoculars, but it'd be the uncomfortable strap if we were to point out anything. This can be easily overcome by replacing it with a more comfortable one, though.
Final Verdict:
Overall, these binoculars are quite the catch for bird watchers, hikers, and hunters alike, thanks to its wide field of view, exquisite detail, image clarity, lightweight, and endurance of different conditions.
5. Bushnell Falcon 133410 – Best Under 40$
Bushnell Falcon 133410 Binoculars with Case (Black, 7x35 mm)
as of December 4, 2023 3:47 pm
Bushnell is significantly well-established in the outdoor goods market. Hence, a pair of Bushnell binoculars under 40$, the Bushnell Falcon, had to make it to our top picks for you.
What we love most about these is that they're zoom binoculars. This means that you can fine-tune the magnification to your satisfaction (and to best accommodate your usage). All you need to do is merely adjust the instant focus lever. That'll give you the freedom to use this pair in various outdoor activities, rather than only limiting you to one.
Not unlike other binoculars we've mentioned previously, these excel in the quality of their image viewing. Together, the Porro prism and coated lenses make that magic happen to generate a sharp, bright image.
If you wear sunglasses or eyeglasses, you'll find this feature especially relevant. The fold-down eyecups ensure you don't scratch your glasses against the lenses.
There are still a few drawbacks to this model. Like many other budget picks, it's not water-resistant, so be careful not to let water seep through. As for the case and straps, we can't vouch for their quality, but as we've pointed out before, you can replace the straps, so that shouldn't be a concern, after all. Finally, the lens caps might fall off easier than you think.
Final Verdict:
All in all, with its durability, comfort, and clarity, the under 40$ Bushnell Falcon empathizes with its customer's need for affordable products without compromising quality. Thus, it really lives up to its name.
6. Celestron 71008 SkyMaster – Best For Astronomy
Celestron 71008 SkyMaster 25x70 Binoculars (Black) with Basic Smartphone Adapter 1.25"
as of December 4, 2023 3:47 pm
If you, like us, find the stars and galaxies inherently fascinating and are looking to stargaze, the Celestial SkyMaster is our pick for you. One of the reasons why that's the case lies in its huge magnification strength. With images 25x larger, you're able to see the sky in all its celestial galore with great detail.
Another reason is the vastly wide objective lens and BAK-4 Porro prisms. Of course, this invites plenty of light, and maximizing the image brightness is just what you need in low-light and long-range conditions. Not only that, but it also widens the field of view to 141 feet at 1000 yards and makes the image clearer, which is even more enhanced by the multi-coated lenses.
Furthermore, the exit pupil of 2.8 mm is relatively small, so the sky appears darker, thus bettering the contrast and viewing experience overall. For all these reasons, we find the Celestial Skymaster perfect for astronomical viewing.
This model is also a great option if you wear glasses. The 13 mm eye relief is long, so you can rest assured that there won't be any scratching against the lens.
We can't neglect to mention this model's durability. Its secure, firm grip is all thanks to its rugged armored body. And it's waterproof as well, meaning you can go stargazing regardless of weather conditions like rainstorms.
However, like most binoculars for stargazing, it's quite heavy at 3.25 pounds, but that's to be expected with the wide objective diameter. Another thing to keep in mind is that magnification this big leads to low image steadiness. Thus, you must bring a tripod to steady your image. And it does take some time to focus, so make sure you set your binoculars up a little earlier.
Final Verdict:
The Celestron 71008 SkyMaster' magnification, objective lens, and field of view, and more grant you your dream stargazing night for under 200$ and with little cons that you can work through- which, in our opinion, makes them the best binoculars for astronomy.
7. Wingspan Optics NaturePro HD – Best For Birdwatching
For birdwatchers, we've got you with the WingspanPro HD. Its weight of 1.5 lbs makes it easy to carry around, and so it's convenient for outdoor activities, hence birdwatching (and hiking and hunting).
What makes this an especially important purchase for birdwatchers is the remarkable field of view. This is the largest FOV on our list, 42 mm. You can scan an area for birds before zooming in on one to capture its every detail. The NaturePro HD gives you that clarity close-up and far away.
A binocular essential for birdwatching is color clarity. These use multi-coated lenses with phase correction to bring you sharp, bright images with vivid colors. This enables you to distinguish a bird's type from a similar one.
Moreover, these binoculars are nothing short of durable. They're waterproof, drop-proof, and fog proof, a selling point for all outdoor activities. You can go birdwatching for hours on end and not have to worry about the weather abruptly changing. Besides, they're rugged and have an anti-slip grip- one less thing to worry about.
Undoubtedly, the NaturePro HD is not without its flaws. For one, it's not the best for dim settings. And focusing the binoculars takes some time or experience, so keep that in mind.
Final Verdict:
When you take into consideration all the major selling points, from weight and field of view to durability, the NaturePro is your go-to if you're a birdwatcher. We strongly urge you to give it a try.
8. Bushnell Legend L- Series – Best For Hunting
Bushnell Legend L-Series Binocular, Black, 10x42mm
as of December 4, 2023 3:47 pm
Our pick for the best binoculars for hunting is the Bushnell Legend. The 10x magnification is a suitable number for hunting, and the 340 field of view is among the widest, but that's not all.
As we've already pointed out, the Roof prism is often not used in affordable binoculars, making this model's BAK4 Roof prisms all the more special. This makes it ergonomic, easy to carry around, and hold for extended periods of time- convenient for hunting and all your adventurous endeavors.
Speaking of lenses, the model uses dielectric multi-coated lenses made of ED fluorite glass. The extra-low dispersion lenses enhance image image-contrast, avoid color alterations, and produce exact colors. These lenses are anti-reflection as well. That, along with the 42 mm objective lens diameter, ups the image brightness so that you can eye your prey clearly.
These binoculars are durable too. The magnesium alloy binoculars' case is corrosion-resistant. It's also waterproof, rainproof, and fog proof (as it's filled with nitrogen and tightly-sealed and the lens coating is hydrophobic). The model's no-slip rubber armor is definitely a perk.
This should give you an idea of why this is a viable option for hunting, but don't take our word for it. The well-established hunters and hosts of the "Bone Collector," a popular outdoor Channel series, Michael Wadell, Nick Mundt, and Travis' T-bone' Turner all use and trust the Bushnell Legend L- series.
The drawback with this one, like many others before it, is the low-quality eyecups. They might fall off, so handle them with care, and you should be good.
Final Verdict:
We can't see why anyone shouldn't want the Bushnell Legend binoculars for hunting with its magnification, lens, and durability. It's quite the catch.
How to Pick Binoculars
Binoculars are used for all sorts of outdoor activities. For each, you'll find certain features to be more relevant than others, and so the question of which binocular to choose relies on the features you're looking for. Down below, we'll list the most important ones for you to consider.
Magnification Power
The first number that defines all binoculars refers to the magnification, and it's the main key to choosing a pair. For particularly far objects, such as the stars, you want a pair of binoculars with high magnification. But note that as the magnification gets higher, the image gets less steady.
Tip: For high magnification binoculars, set them up on a tripod to steady them.
Adversely, if your target is relatively close, high magnification will make it look huge. This will limit your ability to get a full view of its surroundings. Instead, go for a pair of binoculars with lower magnification for a wider field of view.
Objective Lens
The second number is the diameter of the objective lens, measured in millimeters. We're talking about the two lenses closer to your target object. 
Typically, the bigger the objective lens, the heavier the binoculars are (which is a concern), and the sharper the image is. Consequently, if you're using your binoculars in broad daylight, a small lens would do just fine. However, dark settings require a big lens to let in more light and provide a clear image.
Lens Coatings
Aside from the size of the objective lens, when lens coatings are applied to the lens' surface, they can majorly affect the amount of light it permits. They reduce reflections and glare, up the contrast and light transmission, and make colors more vivid.
Field of View
This number answers the question: How wide can you see without moving your binoculars? It's the visible area's width to the user, measured in feet at 1000 yards or meters at 1000 meters. As expected, a broad field of view grants you a better viewing experience overall.
Prism Type
The function of a prism lies in correcting the orientation of the view so that you can see how it naturally is. And there are two types, Porro prism, and the Roof prism.
Porro prisms are the more affordable choice. They allow for a wider field of view and a clear image, but they're bulkier and heavier than Roof prisms. Speaking of which, Roof prisms are the more advanced and expensive alternative. They're lighter and more compact. They also support high magnification, which in turn betters the quality of their images.
Glass Type
High-quality glass can be a gamechanger, especially in low light conditions. It captures the view with more details – making it vital for birdwatching and hunting. Thus, you're looking for the highest quality glass you can find, which is ED glass (extra-low dispersion glass). With ED glass, you don't have to worry about murkiness and blurriness.
Build Quality
This is a tricky one because often affordability comes at the cost of good quality, but that's not necessarily true. If you can get your hands on low budget binoculars that are weatherproof, waterproof, moisture-proof, and/or fog-proof, you won't have to worry about dirt, water, debris, etc. getting in your binoculars.
Eye Relief
Adjustable eyecups are a must for eye relief. When you look at an image through your binoculars, you shouldn't see black rings around it. That's a sign of the eyecups not being adjusted properly. Eyecups are especially crucial if you wear glasses because they allow you to retract. Still, if you don't, you need their shade.
Binoculars FAQs
What Strength Binoculars Do I Need?
For general use, we'd suggest you opt for a pair of binoculars with magnification between 7x to 10x. They provide enough magnification for most activities. If you go any higher, you run the risk of an unsteady image if your hand shakes.
Should I Get 8x or 10x Binoculars?
If you're confident you can hold them steady, there's no reason why you shouldn't go with a 10, as it'll obviously magnify your image 10 times. However, it'll also magnify the shake in your hands by ten times, so if you're not confident or experienced enough, a magnification of 8 is a better option.
Which Is Better, a 10×42, or 10×50?
10×42 works great in average or good light conditions (daytime). It's slightly more compact and cheaper generally. On the other hand, a 10×50 not only performs just as good in daylight but works well in low-light conditions (because a wider field of view lets in more light, improving the brightness). Evidently, it costs more and weighs a little more too.
Which Is Better, Binoculars, or Telescopes?
Astronomers typically use telescopes rather than binoculars to look at space, but that's not to say they're necessarily better. After all, both do use the same optical principles, and binoculars are a merge of two telescopes. They're more compact and ergonomic, but telescopes are more powerful in terms of magnification.
What's a Good Eye-Relief for Binoculars?
You need eye relief that's 16 mm or more. A pair of binoculars with 15mm or less is not a good option because even though the eyecups may twist down to allow people with glasses to get closer, it's still not close enough.
Final Thoughts
When embarking on a journey to purchase the best binoculars under $200, you're looking to find a pair that is both affordable and of good quality. Just ask yourself: what do I want to use these binoculars for? Whether it's hunting, hiking, stargazing, birdwatching, etc., you'll find what you're looking for here.
Conversely, if you intend to use them for some or all these purposes, you want the versatility that the Nikon Prostaff 7S has to offer. And if your number one concern is budget, consider our budget pick, the Nikon 8252 Aculon A211.
Which is better 10×42 or 10×50 binoculars?
10×42 binoculars are a great choice.
Is 10×42 good for binoculars?
10×42 are best for things like bird watching, hunting, concerts, sports events, etc, because they have high magnification, good light quality, and yet are still easy to hold steady.
What the most powerful binocular?
Sunagor's Mega Zoom binoculars