A baby bottle is such a small, simple, and inexpensive product. Yet, this may be one of the first foreign objects your child puts in their mouths. This is not a decision to be made hastily. Additionally, the wrong bottle may result in a gassy baby, a colicky baby, or maybe a baby that just refuses to eat, and that means you, as a new parent, will not be getting much sleep any time soon. All too often, new parents are just given a bottle set at a baby shower, or they click on the cutest looking bottle for their registry, or worse yet, some poor father needs to make a run to a twenty-four hour market and buys what they have available. This can result in a small, but disastrous mistake. Although this is a small product, this is still a very important decision, so we have put together this buyers guide to help you make the best possible decision for you and your new baby.
Before you can just buy any bottle, you need to know some of the basics of baby bottles. Bottles have two main components, the bottle and the nipple. As simple and as straightforward as these might seem, as you will see there is quite a lot of variety within these two components, and finding the right one for your child can be the difference between an easy feeding and a screaming, hungry baby.
The Bottle:
Baby bottles now come in a variety of shapes and sizes, colors, textures, and are made out of a wide array of materials. You will not be able to find any BPA bottles on the market anymore, as they were banned by the FDA in 2012, but if you have older bottles at home you may want to check them.
Most of the bottles reviewed here come in a smaller and larger size (usually 5 oz. and 9 oz. or close to these sizes) for younger and older babies, and are either standard bottles, wide bottles, glass bottles, or bottles with disposable liners.
Even within those styles, the bottles tend to vary in shape and size, and it may just be that your baby prefers a certain style or shape over another.
The Nipple:
Just as with the bottle, the nipple comes in a bevy of styles. If you think of the standard nipple as being a bell shaped piece of silicon or latex with a small hole in the top, there have been a lot of enhancements made from there. This guide focuses on three types of nipples, naturally shaped nipples, anti-vacuum nipples, and orthodontic nipples. In fact, it is possible for some nipples to have attributes of two of more of these styles.
Naturally shaped nipples usually have a wider base and are softer than standard bottle nipples. These are best for babies who are having trouble transitioning to the bottle, or those who have had trouble latching on or other breastfeeding challenges.
Anti-vacuum nipples are likely the most popular feature in bottle nipples currently. These nipples come with a valve or a vent in the side that allow air to flow into the bottle to displace the milk that has left. This is helpful with preventing babies from swallowing air and preventing colic. This also helps with the air pressure inside the bottle, allowing for an easier feeding experience.
Orthodontic nipples are oblong shaped nipples with indentations in the center of the nipple. These are designed to promote healthy oral development in infants, and try to best mimic a breastfeeding feel and experience.
Other Considerations
In addition to the style of bottle and nipple, you may also wish to consider other features in a baby bottle.
While all bottles are BPA free, some of them are made with materials that you and your family may not approve of using. Make sure you check the material your bottle is made of before purchasing.
Most baby bottles are dishwasher safe, though not all, and some are not microwave safe. This is important to consider, as you will be washing a lot of bottles.
Some bottles are very simple to assemble and use, requiring you to just screw a lid and nipple onto the bottle, while others have more involved processes. These extra steps often enable additional features, but you need to be willing to go through that process.
Reviews Of 10 Baby Bottles On The Market Today
Here you will find 10 of the more popular and best reviewed baby bottles available for sale today. Each bottle is distinct, and offers its own unique features and benefits. As you will see, many of these bottles contain combinations of some of the nipple and bottle types, where one nipple might have an anti-vacuum vent built in, while also having a naturally shaped design. As you read, consider which features are most important to (or most needed by) you and your baby.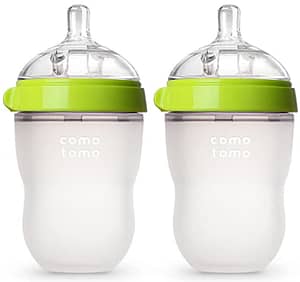 The Comotomo Baby Bottle is one of the most well designed bottles on the market. It is made out of 100% medical grade silicon, made to feel as close to a breast as possible, which should be a huge help to babies that are having trouble transitioning to bottle feeding. The bottle is equipped with a dual vents to prevent air intake and colic, saving parents headache and worry.
Additionally, the bottle is safe for microwaves, sterilization, and most importantly dishwashers, and the wide-neck design of the nipple means that this is an easy bottle to clean and will not require the use of a brush. If your baby has resisted transitioning to bottle feeding, this is the bottle for you.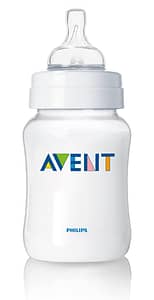 AVENT took great care to make one of the safest and health conscious bottles on the market. The AVENT BPA Free Classic Polypropylene Bottle is latex free, lead free, BPA free, and phthalate free, so parents can feel assured they are giving their child a safe product. The bottle also boasts a Slow-Flow Nipple, which work with a baby's natural feeding rhythm to best simulate breastfeeding, making this bottle perfect for breastfed babies at any stage.
The Classic Bottle works with all of the other products in the AVENT Classic line, including other bottles, pumps, and cups. As is the case with the other products, the Classic Bottle is easy to clean, leak resistant, and designed to be safe and gentle enough for your baby.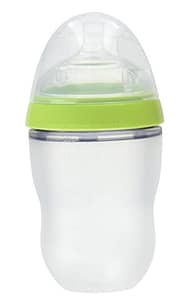 The Comotomo Natural Feel Baby Bottle is very similar to the Comotomo Baby Bottle described above. Both bottles are made of silicon that is built to feel like a natural breast, both bottles are BPA free, lead free, and phthalate free, and both bottles can be used with the same nipple attachments.
The Natural Feel Baby Bottle comes in smaller sizes, and is then better suited to younger children, particularly those 3-6 months old. These bottles are designed for babies who struggle transitioning to a bottle, and your child should have no problem with feedings after introducing these bottles.
The Philips AVENT BPA Free Classic Bottle to First Cup Trainer is a little different from some of the other bottles in this list. This 'bottle' is recommended for babies four months and older, and is not so much of a bottle as it is a sippy cup, or something in between. This bottle comes with a soft spot that has the same flexibility and feel of a nipple, but the shape of a sippy cup spout, to help train your child to drink from a cup instead of a bottle. It also comes with trainer handles for the same purpose.
Like other AVENT Classic products, this bottle is interchangeable with all of the products in the AVENT Classic line, making the transition all the easier for parents and children alike.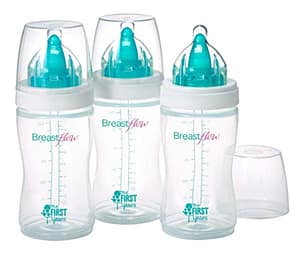 This is a very high quality bottle. The First Years Breastflow Bottle offers something unique in its milk flow delivery, a two in one nipple that allows the baby to control with their own mouths the rate of milk or formula flow from the bottle. Other bottles might just have an open flow mechanism, whereas the Breastflow nipple requires the infant to suck and compress, so they do not choke on excess milk or spill it and cause a mess.
Like many of the other bottles reviewed, this bottle is BPA free, dishwasher safe, and is easy to clean by hand or with a brush. This bottle is great for babies and mothers making the transition from breastfeeding to bottle feeding, or for babies bottle feeding right away.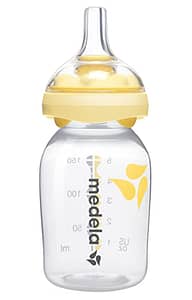 Medela Calma is a pretty sophisticated bottle, even if it just looks like a bottle. The nipple attachment is engineered so milk only dispenses when the baby creates suction, which cuts down on leaks, drips, and as many parents will attest, this actually reinforces good breastfeeding behavior, since babies can not 'chew' on the nipple.
Medela boasts that their products have always been BPA free, and that their bottles are designed for breastmilk so only the safest, gentlest materials are used. We have found, however, that the Calma bottles will also work with formula without clogging.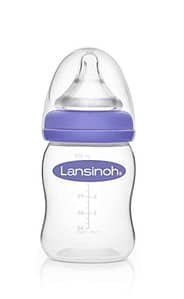 The first thing you might notice about this bottle is its odd, circular shape. This is not just for looks, but serves an important function as it encourages babies to comfortably hold onto the bottle during feeding. Combined with their NaturalWave Nipple, this bottle best simulates natural breastfeeding, and is especially recommended for babies who are having troubles transitioning from nursing to bottle feeding. The NaturalWave nipple also encourages healthy oral development.
These bottles are interchangeable with other products in the mOmma line, and come with a hygienic leak-free cover so you do not experience messy situations when traveling with a bottle. Look no further, this is the bottle for breastfed babies.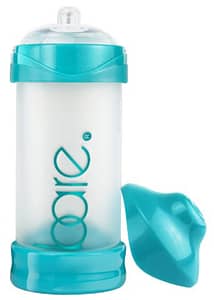 This bottle is unique from other bottles on this list. Instead of being just a bottle, the Bare Air-Free Baby Bottle is more like a flexible bag-bottle inside of a bottle. Milk goes inside the inner bag, which rests in the outer bottle. This allows babies to feed without ingesting any air at all. Think of how a tube of toothpaste does not let air back into the tube, but instead the tube changes shape. That is how the Bare Air-Free bottle works.
Another unique feature the Bare Air-Free bottle offers is Perfe-latch nipple. Bare states that this nipple has a flexible areola, like a mother's nipple, and allows babies at any stage to nurse to their fullest ability, leaving no need for different nipple sizes and eliminating nipple confusion. Unfortunately, the uniqueness of this bottle means that it is not microwave and dishwasher safe.
This is a sophisticated bottle, but it offers what most other bottles offer. It is BPA free, it is easy to clean, and leak proof. There is a learning curve to be had on this bottle, but its benefits are worth it.
This is pretty much the same bottle as the The First Years Breastflow Bottledescribed above, however this is the disposable model. Even that is a little misleading, as the bottles themselves are not disposable, but the plastic liners inside are. This bottle is compatible with Ziploc brand disposable bottle liners as well as many other brands. This allows mothers to pump directly into a bag, and not have to pour the milk out into a bottle, preventing possible spills and milk loss.
This bottle offers all of the same features as the aforementioned bottle, including multiple sizes, being BPA free, compatibility with other products in The First Years line, and the two in one nipple feature that allows the baby to control the flow of milk.
The Born Free bottles are the only glass bottles reviewed here in this guide. Glass bottles offer some obvious advantages. They are always microwave and dishwasher safe as well as BPA and PVC free, they are durable, and the most inert material you could make a bottle from. However, they also are not flexible, they are heavier than other bottles, and can break if you drop them. Still, if you are looking for a glass bottle for you baby the Born Free bottles are a good choice.
The bottles come with a patented active flow venting design, which helps to mimic a mother's natural flow of milk while also preventing air ingestion and nipple confusion. To help offset the possibility of drops, Born Free includes protective sleeves to help insulate them from damage.
The Born Free Glass Bottles are good for breast milk, formula, or both, and are ideal for boiling for sterilization.
So Which One Is Best For You And Your Baby?
Now that you have seen a sampling of baby bottles, you may still be puzzled as to which one to purchase. For this, you need to know what is best for your baby. If your baby is transitioning from breastfeeding right away, you may want to try a bottle specifically designed to mimc the breast experience, like the Lanisoh mOmma bottle or the Comotomo Natural Feel bottle, and help ease your child's transition to bottle feeding. If your child is often gassy and colicky after nursing, then you should try a bottle designed to help prevent gas and colic, like the Bare Air-Free bottle or The First Years Breastflow bottles. Then again, your lifestyle might encourage you to prefer a different type of bottle like the Born Free glass bottles or the The First Years Breastflow Disposable bottles.
There is no doubt that you may have to experiment with several different bottle types before you find the one your baby prefers and will feed from. You may even need to come up with your own unique combination of bottle and nipple to find what works best for you baby. However, it is important that you are aware of the basic features of each bottle, as well as the benefits and and drawbacks of each, and now, after reading this buyers guide, you are prepared and ready to begin shopping.