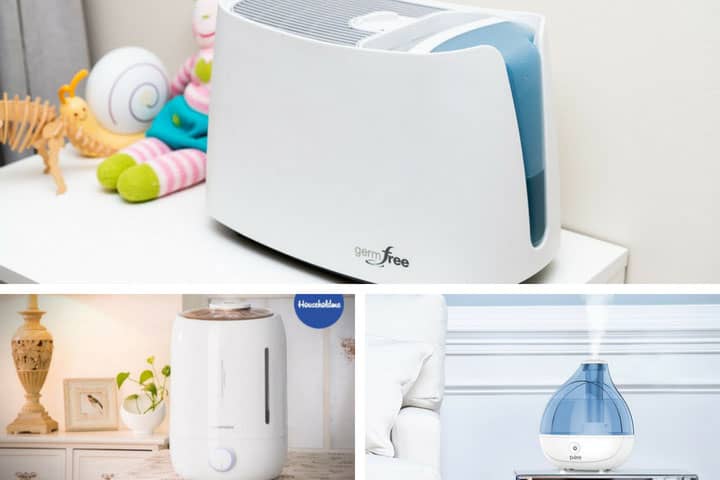 Humidifiers fall under the category of "Crap they never told us about parenting". You may think to yourself "why would my baby need a humidifier?" Well here's the thing. Babies are a lot more vulnerable to illness, and they are especially susceptible to congestion problems.
Dry, harsh air can make you more likely to get those kinds of illnesses. This means that, especially in the winter, you're more prone to getting congestion related illnesses, which means your baby is extra prone to getting them. At that young and vulnerable age, getting even a simple cold can be a major problem, so it's best to work on prevention.
Humidifiers help by adding some moisture to the air, making it easier on yours and your baby's systems. Read on to find out what is the best humidifier for baby on the market today.
Below are our picks for the five best humidifiers for your baby's nursery.
Our number one is the Vicks Starry Night Cool Moisture Humidifier, which works beautifully in your baby's nursery or anywhere else you need to throw it. The large capacity means you can set it up and let it run for a full 24 hours before it needs a refill.
The Cool Mist Humidifier by TaoTronics is a great runner up with its colossal volume, holding four liters of water. This thing can run continuously for 15 hours and has a rotating 360-degree mist outlet. Since it is really quiet, there's very little chance of it waking up your precious little guy/gal.
Our third entry on the list is the Huey Nursery Evaporative Humidifier, from the awesomely named Vornadobaby. The Huey boasts an easy-to-clean design and automatic humidity control. This one isn't just made to help baby – it's made to make mom and dad's life 1000x easier.
Pure Enrichment's Ultrasonic Cool Mist Humidifier is hailed as a great addition to any nursery, with its safe auto shut-off and its gentle nightlight (and hey, that also means you don't need to get a nightlight now!).
The Ultrasonic 360 Humidifier from Safety 1st is a nice and quiet humidifier. Combined with its 360-degree mist outlets, this one is the perfect addition to your baby's nursery. You can leave it running while baby sleeps no problem.
The 5 Baby Humidifiers for the Money
1. Starry Night Cool Moisture Humidifier
This is truly a humidifier made with the parents in mind. Everything about it is designed to be simple, easy to use, and efficient. Aside from holding a lot of water and running for a whole day ceaselessly, it can also be set to one of two speed settings.
The most alluring feature however, and the one that earned it it's top spot on our list, is the self-regulating evaporation system. This system naturally adjusts to the temperature without your input. For you, that means no fiddling with complex settings or trying to factor in the temperature or climate. Just turn it on and call it a day.
There's enough customizability for you to change it when you need to, but the machine mostly just takes care of itself. All it needs you for is refilling the tank and cleaning it out.
It also has a cute projector that projects a starry sky theme around the room, something that baby will find very entertaining. And the Starry Night Humidifier comes with a scent pad heater that introduces some aromatherapy into your baby's life with a calming menthol scent.
Being compatible with Vicks VapoPads is great because you can't add scented oils or anything like that to most humidifiers, so this one having some aromatic options is a big bonus.
2. Cool Mist Humidifier with LED Display
This humidifier uses ultrasonic technology to add moisture to the air, so that means it can do its job really quietly – which is important for a nursery. There is a microporous filter in place, so all the nastiness like bacteria gets filtered out. That means you get clean, moisturized air for your baby. It also means there are no bad smells getting through.
You can set the level of humidity you want as well as set the volume of mist sprayed out by the machine. Adjust for the temperature and season with the simple, easy to use controls. The LED display is easy to read even in low light.
The Cool Mist Humidifier has a lot of other convenient features made to help mom and dad out – there is a timer that you can set, and when you're not using it you can just put it low power mode rather than unplugging or turning it off outright.
Now, with every humidifier that uses ultrasonic tech, there will invariably be some complaints of a fine white residue coating the room. This is, more often than not, caused by the type of water you used, and NOT by a problem with the machine.
Essentially the powdery stuff is the minerals and materials within the water – it goes through the humidifier and gets sprayed out with the rest of the mist. If you want to avoid that stuff, then make sure you only fill your humidifier with distilled water.​
3. Huey Nursery Evaporative Humidifier
The Huey comes with two settings for airflow, and it can run continuously for up to 16 hours. The "Vortex Action" the creators talk about basically means that there is an even distribution of humidified air, so you can set it up and it will target the whole room, as opposed to other humidifiers where you aim them in a particular direction.
The other neat feature is that the Huey is an evaporative humidifier, so it doesn't spray mist into the air at all. Instead, it uses evaporation to humidify, which is smooth and doesn't leave any residue or dampness like other humidifiers.
The grill comes off, so the Huey is very easy to clean. Just take it apart and give it a thorough cleaning. This is really important because if you're not diligent when it comes to cleaning humidifiers, you can get bacteria, mold or other grossness growing inside.
This humidifier is known for lasting a long time – five years and beyond. That makes it a good choice for if you're planning on having a second, third or even more babies after your first. It's the humidifier for growing families, that's without a doubt.
All the controls are backlit so you can set it without turning on the main light. This means you can set it up without waking the baby – a god send for parents of light sleepers.
Since this humidifier is going in the nursery, it is made with smooth edges and lockable controls, so your little explorer won't be able to mess with the settings if they ever get curious about the machine. Baby can push the buttons to his/her heart's content and nothing will break.
4. Ultrasonic Cool Mist Humidifier
This pretty device can run continuously for 16 hours straight, which is a huge plus for the busy moms and dads. With the auto shut-off, you can just set it and forget it, as once the water levels become too low it'll just power down, protecting the machine from breaking.
There is a 360-degree nozzle with a speech control system so you can adjust it to fit the climate and season and match your personal needs. It can release 150 milliliters of mist into the air per hour. It also doesn't use filters, so you don't need to worry about changing them.
The Ultrasonic comes with a soothing, cute little nightlight for the baby, so at night they won't be in total darkness.
Pure Enrichment also offers a two-year warranty on the humidifier, so it's built to take your newborn all the way to the toddler stage at least.
5. Safety 1st Ultrasonic 360 Humidifier
So having two 360 degree rotating mist outlets means you can put this humidifier anywhere in the nursery and it will work just fine. You don't need to fiddle with it to make sure the right way is facing out or anything like that. Just set it up and that's that.
The water tank is big enough to run the machine for 12 hours straight – and at that point it shuts off automatically so that you don't damage the motor.
There are a variety of settings so you can control for how much your humidifier increases the relative humidity (RH) levels in your home. If you live in a particularly dry climate or your child is feeling congested and ill, you can crank the settings up.
The Ultrasonic 360 doesn't use filters, so part of the maintenance and costs associated with a humidifier are cut down. The filterless design also means that you aren't dealing with old filters. Used filters can cause a build-up of germs and other nastiness, which will then be sprayed into the air your baby breathes.
Plus it can sometimes be a pain finding the compatible filters in stores, often forcing you to order online and pay for shipping fees.
What to Look for in a Nursery Humidifier
These humidifiers can make a huge difference in your baby's respiratory health. It's important to pick out a good one, and it's important that you know what to look for when you buy one. Below are some of the essential criteria you need to look for in humidifiers:​
Quiet
This thing is going to be in the baby's nursery. It needs to be quiet enough for your baby to sleep peacefully even when it's turned on.
Long run-time
You want something that runs for as long as 12 hours, at the very least. The best time to run the humidifier is while your baby is sleeping – and besides, it would be a huge pain to have to continuously be filling it up twice a day. At that point, it's almost more trouble than it's worth.
Conclusion
Most humidifiers are a bit of a pain to clean, but we have to stress the importance of regularly keeping them clean. If you don't, mold can develop inside the machine, which not only damages the machine, it's also very unhealthy for the baby. Keep it clean and mold-free.
Humidifiers for your baby may not seem like they are a high priority on the list of baby essentials, but it's something you absolutely should get. It helps your baby by providing better air quality and lowering their chances of getting certain nasty illnesses. You never want to see your baby get sick. Minimize their chances by grabbing a good baby humidifier.​