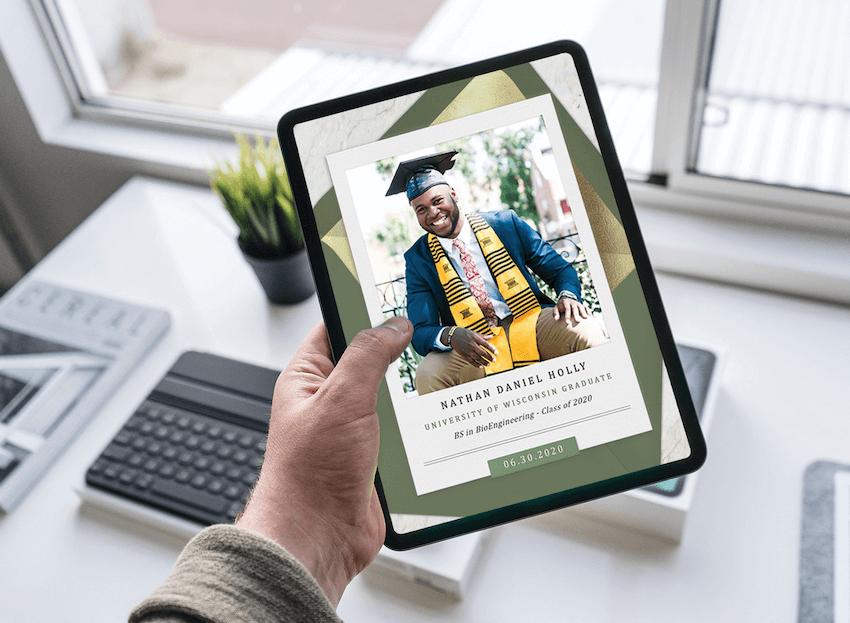 People born in the 90s are familiar with graduation announcements and their uses. Previously, official graduation announcements were made in traditional designs, with a picture and an invitation for people.
These official graduation announcements can still be seen now, but they aren't as common as before. Technological advancement has also made an impact in this area in that college and high school graduates now find their invitations and announcements online.
When it comes to sending college graduation announcements, it looks so simple, but in reality, it is indeed a complicated task. While you try to make something out of the announcement and understand its workings, your focus should also be on completing your courses, finishing classes, and making plans for life after college. This helps you plan, organize, and dispatch your graduation announcements.
What Differentiates Graduation Announcements from Invitations
The simple answer to this is "wording". More thought is required to get a longer explanation. In contrast to high school graduation, attendance to your ceremony for commencing college or party will not be as much, because most people may not come.
Most college graduates often skip such information as the date of the event and location while sending out announcements, leaving it as just an announcement to celebrate academic achievement.
If you want to send invitations for the real event, it's best to do that separately, and ensure to include the salient details and methods for the guests to respond to, stating if they plan to attend. This can be done via email or online. Seating is usually limited; therefore, it is essential to know who will attend and who will not.
Despite all your plans and tasks to undertake before graduation, which is your classes, there may be pressure on you to send our graduation announcements. This could be from your family, friends, and loved ones. Why will you want to spend time giving out announcements when you have lots of other activities to do? Here are a few reasons why you should send graduation announcements.
Your family and friends desire to be involved. They may be fully aware of your graduation sometime within the year. An announcement is the best means to keep them abreast and informed of your activities and tells them of what degree you are coming out with and when you'll receive it.
Your parents and family members are proud of you. You may have had this experience of visiting a friend and seeing a graduation announcement or picture graduation invitation hanging from the fridge. Wasn't that an impressive and exciting sight to behold? Your family has been supportive to you while in high school, this is just a time for them to brag with you, and it is not entirely out of place. For the next couple of months, they are allowed to post their announcements.
In some cases, you may receive cash gifts from friends. For some cultures, it is a tradition for family and friends to send money as gifts for graduation. Everyone needs a little help at one point or the other as you have to pay for a new apartment, clothes and all the requirements for a new job and also graduate school.
It's an opportunity to venture into networking. It so happens that you are a graduate with a degree in Computer Science. Meanwhile, your uncle works at the IT Company you have an interest in working at. An announcement opens your door to future job opportunities and exposes you to the world of chances as people are now aware that you are a college graduate seeking employment.
It makes for great memories. Sending announcements may seem like a Herculean task now, but in the future, stumbling upon a copy ten years from now; stored in your storage box up in the attic can be a priceless gift to your future self.
It is an avenue to keep in touch with loved ones. Facebook, Twitter, and social media at large are an excellent platform to maintain contact and communication with friends and family. But how do you reach out to loved ones who you don't get to see after a long time but are an integral part of your life? An announcement opens your door to communication and interaction.
It's an excellent means of celebrating achievements. You've put in efforts into becoming a graduate, and we can't forget the toils, hardworking, late nights, study sessions, and all you did to get your degree so quickly. This is the perfect opportunity to showcase yourself and let everyone know that you have achieved your goals and earned a degree, without bragging about it or sounding pompous.
It's an opportunity to thank all who lent a helping hand to your achieving success. Was there a friendly teacher in high school who always helped you while in college? A mentor in church? A loved one who came out of his or her way when you needed help? Then this is an ample opportunity to thank them. Giving graduation announcements to those who contributed to your success story and made a positive impact in your life is an excellent way to say thank you to them for all their love and efforts.
FAQs
1. Who needs/wants to know that I'm graduating?
The answer is simple. Graduation announcements are meant to announce that you'll soon be graduating. As the word "announcement" sounds, it entails that you're sharing the good news, and not necessarily inviting the receiver of the invitation to your ceremony or party. This is common with college graduates who want to inform their family, friends, teachers, and colleagues of their graduation, but maybe hosting a little party in celebration, thus communicating their announcements verbally.
2. Who is invited to my graduation ceremony?
Usually, this is a small gathering of people. In some high schools, only a few people are allowed to attend the ceremony, in some cases, a handful. Some private colleges give caps to attendees at their graduation, while more prominent universities with huge arenas make their invitations open to everybody. Although you can include details on your announcement, making them ceremony invitations, this isn't so common. In most cases, graduates prefer inviting people verbally to their occasion since it is usually immediate family and few loved ones and friends that will grace the occasion.