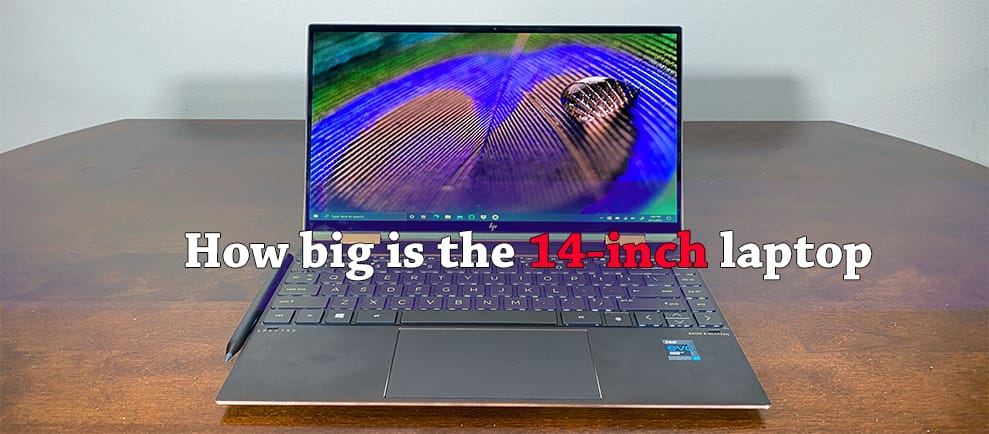 If you consider buying a 14-inch laptop but you are afraid its dimensions might not meet your expectation, don't worry we will learn how to choose the best dimension to fit your lifestyle and usage
What are the sizes available?
Laptops are available in a variety of sizes based on a range of lifestyle requirements, with each size having its own set of features. The screen size is given in inches(") and/or centimeters (cm), you should know that 1inch is equal to 2.5 cm
There are several categories of laptop sizes:
11 to 12 inches: The lightest and most compact
13 to 14 inches: The average size laptop, They're compact enough to be carried around and still the screen is sufficient to provide a good view of the display. They are normally 4 pounds or less in weight.
15 inch: This is the most typical laptop size, they are very popular in the market because they may be used for work and daily use and sometimes can be good enough for gaming. They range in weight from 4 to 6 pounds.
17 to 17.3 inches: the biggest display available but the portability will be sacrificed, this type of laptop is mostly utilized in a home or by professionals who need a better display for finishing complex tasks
But what length on my laptop screen is represented by the 14 inches for example?
Laptop screen size is measured diagonally from the bottom left of the screen to the top right or vice versa. This just applies to the screen and does not include the metal or plastic frame around the screen edge. A tape measure can be used to physically measure the distance specified.
Should I pick the 14-inch laptop or not?
A 14-inch laptop screen is slightly bigger than an A4 sheet of paper, so it's a midsize laptop that will be easy to carry around but let us dig deeper into the characteristics of the 14- inch laptops
Laptops are designed to be carried around. therefore the lighter the better so if you use one of the bigger screens (15 inches or more) you will face some issues resulting from the extra weight:
You will need a more robust backpack to carry the laptop
increased likelihood of external hits and/or impacts as it may drop
An everyday commuter must use a significant amount of energy.
The compact size of the 14-inch laptop makes it easier to carry around. It is great for users who frequently travel and work while on the move, even if there is no suitable desk to place the laptop on, you can easily use your legs as a stand
The screen size is a crucial determining factor in pixel distribution, although a larger screen size does not automatically imply a higher pixel density.
If you compare a 14-inch screen with a 15-inch screen that has the same resolution you will find that the latter will have a better pixel density. The pixels in a 14-inch laptop are tightly packed onto a smaller screen, delivering a better experience.
One of the biggest factors that affect battery life is the output of your monitor, so if you use a smaller screen like the 14-inch you will consume less battery life than a 15-inch screen
Due to the small size of the body, 14-inch laptops have a substantially lower number of high-grade specs and hence require significantly less battery power.
Usually the 14- inch laptops don't have number pads on the side which might slow down your typing a little bit but that won't ruin your typing experience because on the other hand you'll have the best typing experience thanks to the perfectly optimized keyboard.
Not the best option for Gamers
One of the most significant issues that 14-inch laptop users face is that it will not be adequate for their gaming needs.
From CPUs to GPUs to RAM, you will need higher specs that will require more efficient cooling and that won't be available in the 14-inch laptops.
As a result, Larger laptops may have a gaming performance benefit over 14-inch laptops
A 14-inch laptop typically has one RAM slot that cannot be upgraded, however, a 15-inch laptop has adequate room for two RAM slots that can be modified, allowing you to readily improve your laptop.
The same situation goes for SSD slots, in a 15-inch laptop, you can have two upgradable slots that can be expanded to provide you with more than 2000 gigabytes of storage.
Unfortunately, that can't be done in a 14-inch laptop, instead, you will have to connect external SSD which adds extra weight, extra bulk, and the cables you will have to carry around if you need to connect the external storage on a regular basis
If you want three USB ports or a microSD card reader, you will need to purchase a 15-inch or larger laptop, as 14-inch laptops often have just two USB ports and no microSD card reader at all.
The Bezel is the metal or the plastic frame around the screen, the thickness of the Bezels can be deceiving for the eye, The entire laptop will look bigger if the bezel is really thick.
Whatever screen size you get, try to pick a laptop screen with a thinner bezel
Do you need a touch screen?
Laptops with touchscreens can be divided into two categories:
Clamshell: This is the classic form factor, the screen is on top f the laptop while the keyboard is at the bottom, the hinge can be opened to a maximum of 180°
Convertible (2 in 1): Clearly it is a laptop that can be transformed into a tablet by folding the screen by 360°
Using a 14-inch laptop with a touch screen of any of the previous types can prove to be handy but some people may consider it an unwanted feature that will drain your battery
Frequently Asked Questions:
How do I measure my laptop screen size?
The screen is measured diagonally from top to bottom of opposite corners without including the bezels which might add an inch to the correct measurement
What bag size is suitable for a 14-inch laptop?
After measuring the diagonal length, You will need a bag or sleeve with a depth of at least half an inch more than the measured length.
The following table will help you in finding the right size
| | |
| --- | --- |
| Diagonal laptop (inch) | Diagonal laptop (cm) |
| 10 inch | 25.40 cm |
| 11 inch | 27.94 cm |
| 12 inch | 30.48 cm |
| 13 inch | 33.02 cm |
| 14 inch | 35.56 cm |
| 15 inch | 38.10 cm |
| 16 inch | 40.64 cm |
| 17 inch | 43.18 cm |
| 18 inch | 45.72 cm |
| 19 inch | 48.26 cm |
| 20 inch | 50.80 cm |
Is a 14-inch screen too small for gaming?
If you don't mind playing games on a smaller screen with the same resolution, there shouldn't be any issues. It's just that the game won't provide the same immersive experience that it does on larger screen sizes.
The 14-inch screen laptops will also have less powerful components required for expert gamers who want higher grade specifications and better cooling for their gameplay.
Is 14-inch Laptop Too Small for programming?
The size of the screen won't affect your day to day programming work if you can sacrifice the numerical pad, but you will need to check the availability of the following hardware:
RAM: the RAM may not be a huge worry for web developers, A laptop with 4GB of RAM should be sufficient. However, a software developer may need at least 8GB of RAM
Processor: the faster the processor the better you can handle bigger projects and more graphically intensive applications, It is advised to use an Intel Core i5 at least but if you are a game developer the Intel Core i7 will be the perfect processor for you
What are the Best 14-Inch Laptops on the Market?
Acer Swift thin and light laptop
ASUS Chromebook Flip C434 2-In-1 Laptop
HP 2021 Newest Stream 14-inch HD Laptop
HP 2-in-1 Convertible Chromebook
Asus ZenBook 14 Ultralight
Conclusion:
Smaller screen laptops are the most practical solution for users who need to be active on their systems at all times and in all locations, and they are in high demand.
Laptops with 11 or 13-inch displays are sometimes too small and they are not appropriate for detailed work and if you get the 15-inch laptop instead you will find it to be too bulky for users who need to remain mobile.
With the 14-inch laptop, you are getting the best of both worlds. Most 14-inch laptops are powerful enough to perform all of your daily computing tasks and feature good graphics and still maintain lightweight, the 14-inch screen provides a good balance of mobility and power
In the end, the selection is determined by your requirements. We hope this article has helped you decide if a 14-inch laptop is the best for you.