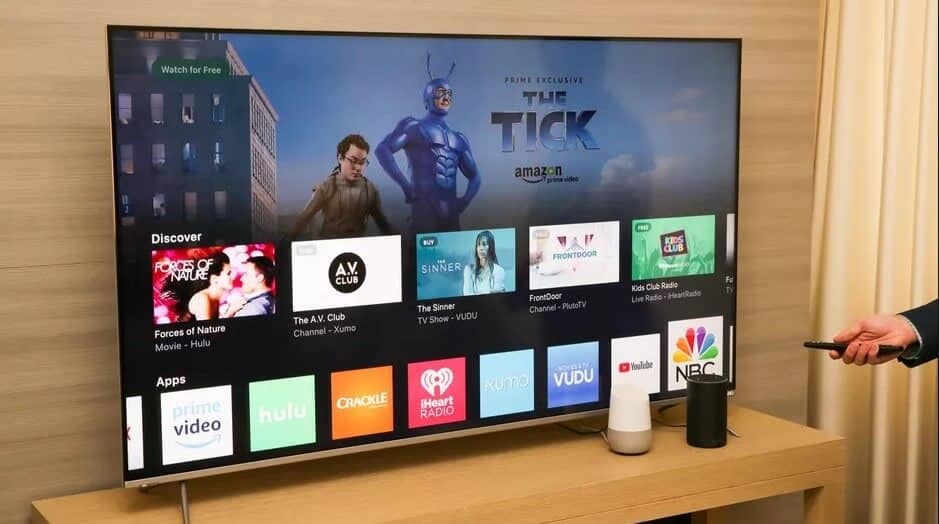 Vizio is one of the most popular tv brands which is known for producing high-quality products. Their set of smart TV models is incredible. A smart TV, of course, offers you an amazing, entertaining experience as you can operate all your favorite streaming services. In this guide, you will learn How to Add Apps to Vizio Smart TV. Most TVs come with their own set of applications. Most famous apps, such as Netflix, Youtube, Facebook, Google, Spotify, and many more are pre-installed. But there are many more available apps to download on your Vizio smart TV. The built-in Chromecast device which is a streaming media adapter from google is what makes steaming on Vizio available.
Adding apps to your smart TV can be a bit tricky. There are many ways to do that and sometimes figuring out things on your own just doesn't work. No worries though, we have gathered an informed and detailed guide so you don't get lost. Just follow our instructions and you will be soon enjoying all your favorite apps without much of a problem.
The Three Categories
First of all, you need to identify in which category your Vizio machine falls. This step is the most important one so you can know which method to use to download the apps.
Your TV, with no doubt, falls under one of three sections. This division happens according to your TV model. The system is one of these: smart case, Vizio Internet Apps(VIA), or Vizio Internet Apps Plus(VIA+).
So, how can you decide your TV's category? The answer. is simple, through the model's manufacturing year.
If your TV is manufactured in 2015 or before, then it is Vizio Internet Apps(VIA) or Vizio Internet Apps Plus(VIA+).
If the year is 2016 or 2017, it is Vizio Internet Apps Plus(VIA+).
And 2018 or newer models are in the smart case category.
VIA/ VIA+:
The Vizio Internet Apps or Apps+ is a smart TV platform so you can add or manage apps directly through your remote control. Screencasting is also available for some other apps.
add apps on VIA or VIA+:
first, make sure that your Vizio TV is connected to the wi-fi.
now press the V button on the remote.
when doing that, you will be directed to the TV store.
there will be many options at the top of your screen, choose the one you desire.
then, the available apps will be opened and you can browse through them and decide which apps you want to add.
when you want to download an app, just highlight it and press OK.
keep scrolling until you find the install app option. Select it and the installation process will begin. Now, the app is added to your list.
Update apps on VIA or VIA+:
press the V button on the remote control.
after that, look for the app you want to update.
after finding the app, highlight it while pressing the yellow button on the remote.
then, you should see the update option and select it. If you didn't find it, that means that you already have the latest version of the app and there is no available update.
Delete apps on VIA or VIA+:
on the apps list, highlight the app you don't want anymore.
from the menu, select the delete option then press OK. the app is deleted now.
Smartcast
The TV has a built-in Chromecast. The apps are displayed on the smart TV through a compatible smartphone or tablet. And streaming content is not the only thing the smartcast is capable of doing. It provides control over all the functions of your TV. it means you can control the sound, the picture settings, and all other features.
It also recommends content based on your preferences to give you a personalized experience.
How to use a smart cast:
First, open the app store on your smartphone or tablet.
then, install the Vizio smartcast app on your phone.
after the download is done, launch the app,
click on the lateral bars on the top left side.
find setup new device and select it.
then, click on get started and choose the language.
select the TV model from the list of devices on your tablet or smartphone.
pair the two devices and click on the casting logo that appears on the screen.
Now the cast is initiated and you can start streaming all the content you want.
Update apps on smartcast:
Now that you have a newer TV model, you don't need to worry about updates anymore. The apps update themselves automatically when you stop using the TV.
You can still do it manually if you wish, just be connected to wi-fi and implement these easy steps:
turn on the TV and select the menu list.
then, select settings.
press on system.
check the updates and if you find any, confirm them.
Now you are all set to start enjoying.
Conclusion of How to Add Apps to Vizio Smart TV
Adding apps to your Vizio smart TV can be a little tricky if you don't know what is a category your TV falls in. but we hope that now you can identify it so it is easier to add apps through the provided methods. Please don't hesitate to reach out and ask us any related questions about this topic and we will definitely help you through any difficulties.
You can also this guide about the best laptops for teachers.