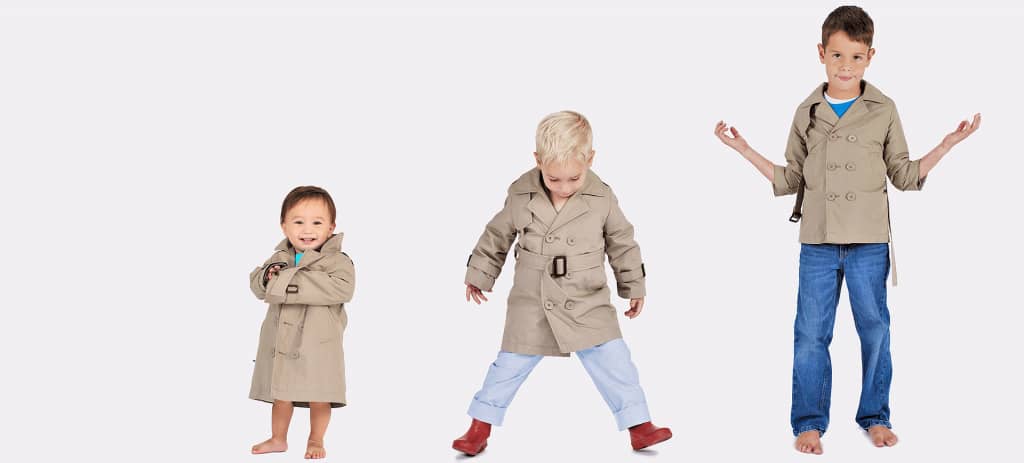 Keeping up with the latest trends and fashion can be quite expensive. There is something fashionable coming up every time. Are you going to get every piece of clothing that is in fashion? For parents, dressing your kids smartly and comfortably is always a top priority. However, kids outgrow their clothes pretty fast. That simply means one thing, getting your wallet out and spending on new clothes. This can be quite pricey for parents as they try to match their kid's growing needs.
It even gets worse when buying clothes for different seasons. The same cannot be said of adults that wear the same size. You just need to buy yourself some clothes after a while. However, your two-year-old baby will certainly require the newest of clothes when turning 4. It is the cycle of life and parents have to ready to spend more.
Babies grow so fast
Most parents can agree that there are some clothes that your baby never wore. This is because you thought your baby was still too you to fit. The same applies to baby shoes.
A shoe that was perfectly fitting your baby last year will be too small this year. You're probably thinking of keeping it until you have another baby. Well, you still have to buy another pair of shoes for your little one. This will keep on happening until your baby is a grown adult.
So happens to all the clothes?
In the end, your home will be full of baby clothes for different ages. Surprisingly, most of these clothes will be in good condition. Let's say you're expecting another baby a few years later. And, you think you have just enough clothes. But wait, the baby gender is different. It still comes down to buying new clothes every year. Once your babies are all grown up, your home will be a store of baby clothes. You can donate most of these clothes or sell them.
However, trends in the fashion industry are always changing. Your old baby clothes are no longer in fashion. What is there was a way you can trade-in your clothes?
That sounds quite interesting. Yes, you can trade-in your baby's clothes with other parents. Instead of buying brand new clothes, parents can trade in clothes without spending money. The shrinking clothes of your baby will perfectly fit another baby out there. The same applies to your case. There are clothes of another baby out there that will perfectly fit your baby.
So what is the biggest deal?
The biggest problem here is bringing all the different parents together to perform a trade-in as opposed to buying new clothes. Well, this is where the Swoondle Society comes in.
This is a society of parents trading in their baby's clothes. The society lets you trade-in your baby's outgrowing kids for 'new favorite' ones. Obviously, you will be getting your baby high-quality second-hand clothing.
Are they really high-quality?
Yes, all clothes for trade-in in Swoondle Society are in good condition. Swoondle vets and verifies every cloth, pair of shoes and other baby garments before displaying them for trade-in. Here is how everything works out:
Send your stuff to swoondle
The first step is signing up for Swoondle. You need a plan or a sign up $5 welcome kit. The kit is basically a special prepaid shipping bag and a further $5 Swoondle credit. Once you've signed for a plan, shipping bags are free. This kit usually ships in 3-5 days. The bag is in the size of a standard pillowcase.
The next step is filling up the bag with clothes and shoes that you want to trade-in. Send the package and wait for an email.
Swoondle processes and values your package
Once they receive the package, they send an email acknowledging receipt. They immediately get to sorting and photographing your clothes. This is the verification process where they ensure clothes on display are of good quality and in good condition. The process usually takes 5 business days.
Items that are accepted are then assigned a level ranging from 1-5 based on the quality, brand, item type, size, condition, overall supply, and demand. Items that do not meet the required qualities are donated or recycled.
Once the valuation process is complete, Swoondle updates your balances to your account and sends you a notification email. Below is a list of the items they accept for trade-in:
Kids' footwear
Kids clothing
Outerwear
Costumes
Freshly washed
Special occasion wears
You need to avoid sending stained or damaged clothes as they will not be accepted. Smokey or smelly clothes will also be rejected. Low-cost items of less than $10 original price will also be rejected. Other items they reject include socks, underwear, knock-off fakes, baby blankets, and home-made clothes.
Shop what you want
You can now shop for items that you want now that your account is updated with a balance. However, you have to limit your shopping to your trade-in level. If your trade-in level is $100, then you have to spend at least $100. If you want an item costing $150, then you need to pay the extra 50 dollars.
It is a win-win situation for every parent. The better the items you traded-in the better the items you will get out.
What if I did not trade-in?
You can be a member even if you did not trade-in your baby's clothes and footwear. However, you can buy items directly by paying for the cost.
You don't have to buy new baby clothes every year when you can trade them. This is a cost-effective plan of dressing your baby stylishly and fashionably. You just need to buy a few occasional new clothes when necessary. However, for most of the baby wears, you can trade-in what is not fitting anymore for something of your choice.
Benefits of the Swoodle Society
You spend quite little in sign up and shipping clothes
You get a good value for your old traded clothes
Swoondle gives you the freedom to choose what you want
You can always top the extra balance of the item price is higher than the traded balance