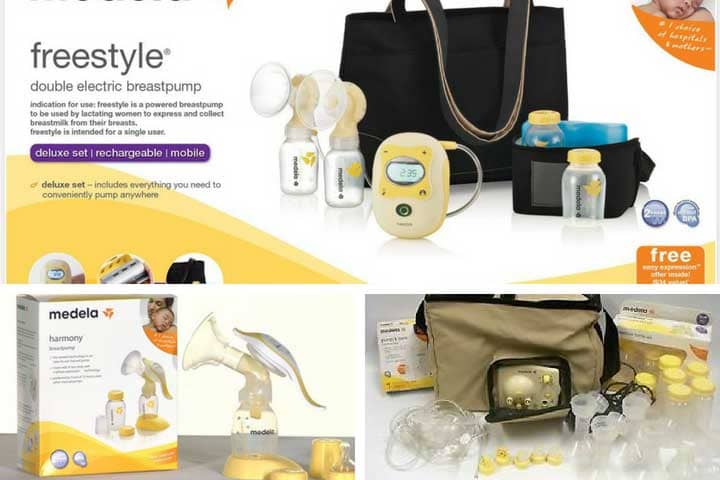 One perfect adjective for the Medela Breast Pump would be discreet; only another savvy mother can tell that your bag is MORE than just a stylish accessory. It comes in a sleek (and discreet) black shoulder bag. The pump itself has an adjustable speed setting, AC battery pack and a picture frame so you can admire your baby's eyes as the milk supply is accumulated.
You'll also notice the included extra bottles, complete with stands and a holder. The removable cooler carrying case keeps your milk fresh and nurturing for your child. And the "PersonalFit" breast shields are the best in their class.
Finally, there is a pump that makes breast pumping easy, simple and hands-free. Add it's elegant design and the Medela Breast Pump is an "accessory" even a non-mother would want.
Speed and vacuum suction is adjustable, making the experience totally customizable.
Discreet and portable; make life-giving milk (without shame) anywhere you go.
Bag panel is sturdy and folds down for convenient use.
Ice-based cooler carrying case makes for simple and safe storage/transportation.
Extra storage pockets built-into shoulder bag
5 Reasons to Love the Medela Breast Pump
1. Speed & Quantity
For me, the Medela Breast Pump really impressed me with its speed. My little one needs 30 ounces of milk a day; this pump helped me provide for him simple, fast and easy.
Not long ago, I forgot my Medela at home when I went away for a long weekend. I needed those membranes to use the pump, and since I couldn't wait I made a pit-stop and picked up an Avent Isis hand pump.
The Avent Isis got me through the bind but, to be honest, it only made me appreciate my Medela Breast Pump even more. You see, the Avent only gave me 10 ounces for every 30-40 minutes… and my Medela gave me 16 ounces every 20 minutes!
2. Comfort
And being a first time mother, using a breast pump took some getting used to. My nipples are sensitive as it is, and not too many folks tell you how painful it can be (especially if your nipples are cracked for bleeding).
Fortunately, I got some good advice which I'll pass on to you. Three words: PurLan breast cream. Use it after every session and you'll never even feel discomfort, ever mind pain.
With PurLan, using the Medela Breast Pump is easy. My sister, who has much larger breasts than me, uses it too… so the unit works on all sizes. They even give you two different breast shields, one for smaller breast and one for larger ones. In case you don't know, the shields are for comfort and to make the suction more effective.
Oh, and the vacuum suction is totally adjustable so you can ease your way into using the pump. Start at the lowest and get faster later on, if you want. Personally, even with my sensitive nipples it didn't take long to get to the highest speed.
The difference was like night and day.
3. Set-up & Cleaning
I also noticed the difference in cleaning out the Medela Breast Pump as compared to the Avena Isis handpump. The Avena was a pain in the neck; with my Medela I can clean the entire unit in 5 steps… which takes 3 minutes total.
This is all you do to clean up:
Secure the tubing
Throw everything into dishwasher, except the membranes and tubing
Hit "Wash"
Hand wash the membranes and tubing (to keep them from breaking)
DONE!
You can use a steam sterilizer instead of a dishwasher if you want. But if you're using a dishwasher, make sure to put the valves in the silverware basket to protect them.
4. Storing
Each compartment that comes with the Medela Breast Pump can store 20 ounces of milk, and the cooler carrying case keeps it cold for hours on end. If you're like me and like to pump in batches, you can get 20-CSF collection bags from Medela for extra storage.
Now, these 20-CSF bags are really cool. They have measurement indicators and labels you can use to date stored milk. Store the bags in the freezer or fridge and you're good to go.
And yes, you can store breast milk safely in either one. The fridge will keep in fresh for up to a week, 6 months in the freezer or 1 year in a deep freezer. When you're ready to use it defrost in the fridge, with a bottle warmer or under the tap. Just make sure not refreeze after a thaw… that's a big no-no!
5. Portable
And, for the active mom, the Medela Breast Pump is a dream. It really feels like they had the working mom in mind when they designed this thing. Use it between meetings and store in the cooler or put the milk in the fridge. Oh, and to avoid any disasters, make sure to mark any breast milk you put in the company freezer… you do NOT want your boss flavoring his coffee with it (well, maybe you do but I highly advise against it).
It's pretty lightweight too; only about 7 pounds. Now if you have your baby, stored milk and diaper bag in tow it might get a bit hefty but as a standalone it won't feel like much of a hindrance. You can get an car charger for a few extra bucks too, to make it even more mobile-friendly.
Medela makes the best breast pumps on the market, hands down (and often enough, hands-free). Whatever. You already know that… which is why you're reading this. What you might not know are what specific models are the most popular, so here are the top 5 Medela Breast Pumps as appraised by actual mothers.
Best Medela Breast Pumps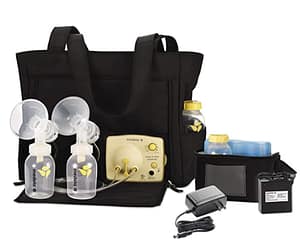 I've read people say that the Medela Pump in Style is even better than the highly acclaimed Medela Symphony… and I can understand why. Prices for this model have been tumbling as Medela keeps the competition chasing, and you get the power, carrying case design and useful accessories Medela is known for. Here's a tip: cut a slit into an old sports bra to turn the PIS into a hands-free pump! This works just as well as the bra clips that come with the Medela Freestyle, without having to drop the extra money for one.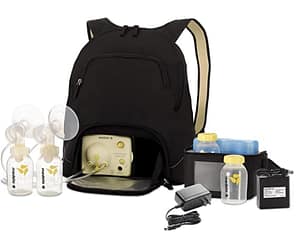 Medela built a name on the backs of units like the Pump in Style (pictured above). It's for good reason; read the actual user reviews and you'd be hard pressed to find a bad one. The Pump in Style comes in either single pump or a double pump, the latter helping you express faster. It's built to last; mothers tend to buy one Medela for their firstborn and keep it for all their kids down the line. If that wasn't enough, it makes storage simple with a cooler and a carrying case with storage pockets throughout.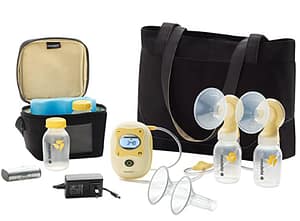 Uberlight… easy to operate…. and comfortably priced. I reckon it'd be hard to make the Freestyle Breast Pump any better than it is, precisely for those three reasons. Fans of the Medela Pump in Style will be especially impressed by the weight, which is about the same as the Pump in Style's power block alone. Cleaning and resecuring the tubes and valves is easy (even easier than the Pump in Style), and the digital display timer is a nice touch. Comes with rechargeable batters, making this the perfect complement to mothers-on-the-go. Plus, it fits in just about any bag you can find making it even more convenient.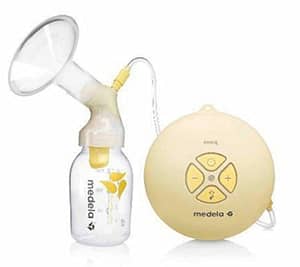 The Medela Swing Breast Pump is built on "2-phase expression technology" which means the unit actually emulates a child's natural suction level. It's also comfortable and convenient… bring it with you anywhere(travel bag, batteries and charger) and pump without pain or irritation (soft breast shields, speed/vacuum control, 4 button operation). This isn't the quietest pump you can find, but that's understandable given how fast it produces. Your breast will be emptied totally, just don't expect to do it during a meeting without being noticed.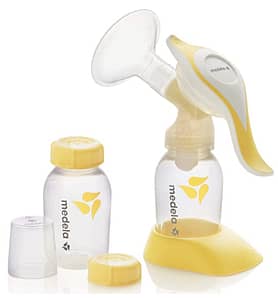 Unlike others I've seen (such as the Avent Isis), the Medela Harmony manual pump is lightening fast. Getting 4 ounces for every ten minutes is normal and to be expected. Plus, the unit is a breeze to clean and fits Dr. Brown bottles like a glove making for direct-to-bottle pumping. All you need is one hand to operate it, leaving one free to hold your child… and the suction is comfortable and consistent.
Final Word
One more note before I sign off: on a very rare occasion some breast milk will leak from the tubing as you pump. There's quick fix; just rinse the tubing in warm, soaping water, dry it and make sure you reconnect in securely. This doesn't happen often and with all of the benefits I highly recommend the Medela Breast Pump for you and your young one!