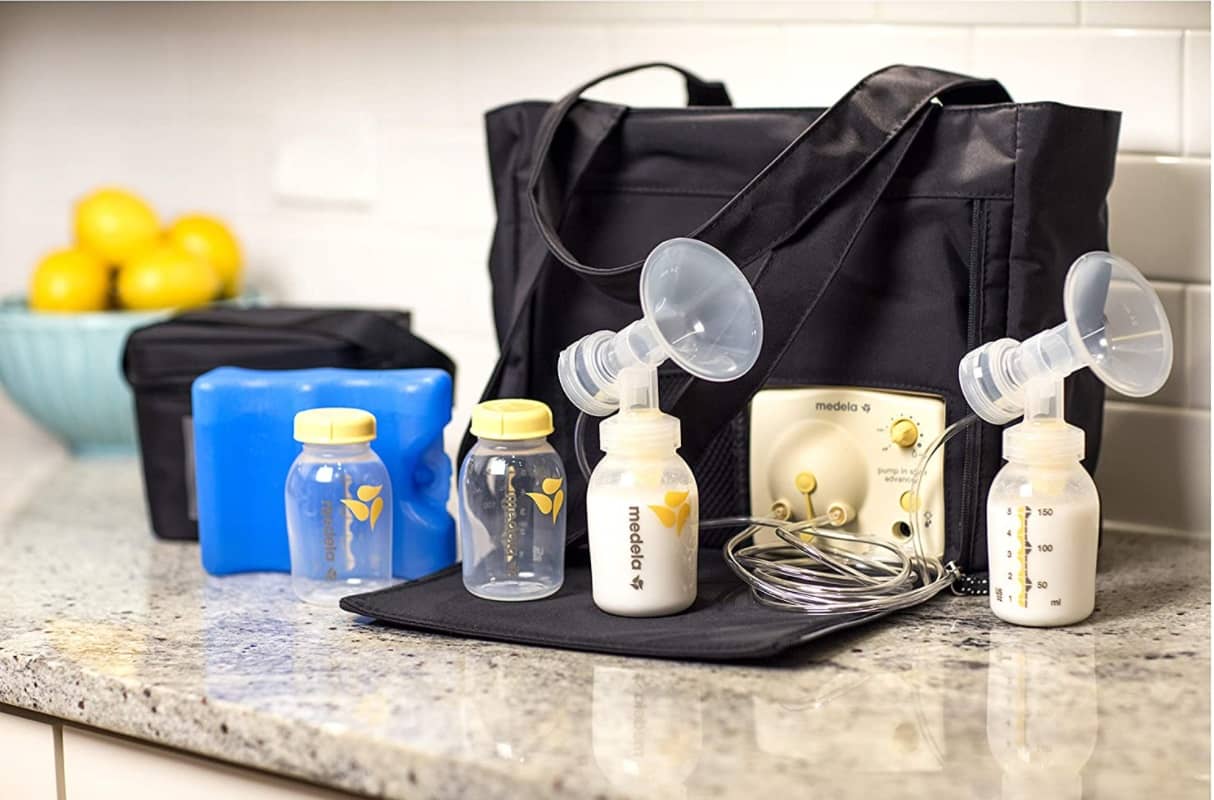 Using an electric pump is the fastest way to express milk. Electric pumps are easy to operate. Unlike the manual ones, you don't have to ache your hands to maintain your pumping pattern.
Moreover, they're great for mothers who're feeding twins and want to efficiently extract more milk.
In this article, we'll review the Medela Pump in Style Double Electric Pump to help you decide whether it's the right pump for you or you should be looking for alternatives.
At a Glance:
The Medela is one of the most compact pumps you'll come across. It's built into a small backpack, and you can instantly tell it's portable.
You can use a dial to adjust its suction, and there's a single button to alternate between the stimulation and the expression phases.
It's pretty obvious that the controls are quite simple. However, it can be a little tricky to use the pump with a pumping bra, bustier, or any other hands-free accessory.
Medela Pump in Style – Full Review
1. Assembly
It's easy to assemble and disassemble the Medela Pump in Style. There are only 5 parts to put together, and the manual is pretty helpful. It contains direct instructions that are easy to follow. You won't find any illustrations for how to put the pump parts together yet; you'll be able to start it right away.
2. Mechanism
The Medela Pump in Style uses an open system to express milk. This means that the milk comes in contact with the inner parts of the pump. The only advantage of this system is that it's more powerful than the closed counterpart.
However, some milk residues are always left behind, which creates a good environment for bacteria and molds to grow.
Thus, it's crucial to make sure to clean the machine properly. You might even need to replace the tubes every now and then to make sure your milk won't be contaminated. On the bright side, the tubes of the pump are available everywhere, and you can easily find them online.
3. Single vs. Double Collection System
The Medela Pump in Style can be used as a single- or dual-collection system. This way, you get to choose whether to express the milk from one breast or both breasts during each session.
This feature allows you to end up with a hands-free pump in case your time was tight. All that you need to do is to invest in a pumping bra.
4. Power
One of the best features of this pump is that it can operate depending on electricity or battery. For starters, you'll get a 9-volt AC power adaptor in the package to be able to plug in your pump and start using it whenever you want.
However, if you're in a place where you can't find an electrical outlet, you can depend on a battery pack. The battery should be an 8 x AA, and it doesn't come with the package. However, it's really affordable, and chances are, you have some at home already.
One last thing to mention when it comes to the power supply is that you can invest in a car charger. It'll give you the chance to use the pump if you travel in a car or in case of any emergency.
5. Noise
Electric pumps are much louder than manual ones. Yet, this specific model is relatively quiet, considering it's an electric pump. You'll probably hear some noise while using the machine. To avoid any embarrassment, keep this in mind when you're talking to your boss on the phone while using the pump, as they might hear it.
6. Suction Power
Most mothers like this pump because of its spectacular suction power. It's the most highlighted feature, thanks to the unique 2-phase technology that's used for milk expression.
The first phase is the "let-down" phase, during which the breast is stimulated to start the let-down reflex.
The second phase is the phase of actual milk expression. This phase is adjustable, allowing you to get the suction speed that suits you, and that you feel more comfortable with.
7. Cleaning
As we were just saying, the open system that this pump uses to operate increases the risk of contamination. This is why it's crucial to clean the pump extensively after each use to make sure you're on the safe side.
To clean the pump, you'll need to disassemble all the parts from each other, then run the tubes through clean water. Make sure to get rid of all the visible milk build-ups.
Many will stop at this point and let the pump dry then reassemble it. However, I like to soak the tubes in warm water with soap for a couple of hours then rinse them again. This way, I'm reducing the risk of ending up with any unwanted hazards.
8. Portability
This pump is an excellent choice for those who move constantly. It's compact and sold in its own convenient carrying bag.
It's lightweight, and you can use a battery to make it operate when you're outside. There's a cooler bag that can fit 4 milk bottles, each of which is 5oz.
Moreover, there's a travel bag that can accommodate all the pump's parts and accessories, including the cooler bag. It makes it easier for anyone to take the bag with them anywhere.
The travel bag features a side opening that's made to easily access the breast pump without having to unpack it first.
What's Included in the Box
A microfiber bag
Cooler bag and ice bag
4 milk bottles each is 5oz. (150 ml)
The pumping kit with 24mm breast shields
A 9-volt AC adaptor
A battery pack (no batteries included)
Users' Reviews on Amazon
The majority of users love the Medela Pump in Style because they can use it wherever they want. This allows many women to return to work as soon as possible.
Also, the pump lasts for a long time with the same suction power. It's worth your money, especially when compared to other pumps that are currently available.
The only thing that wasn't that impressive was the packaging. Some users didn't receive the pump in an Amazon protective box. Instead, they received it in the manufacturer box, so it wasn't really in its best condition.
Final thoughts
The Medela Pump in Style has all that it takes to be one of the best double electric breast pumps that you can get. It's fast, easy to use, and portable. Besides, many people use it for years without having any issues.
It may be a little unhygienic. However, if you know how to clean it properly, and you replace the tubes from time to time, you'll have nothing to worry about.