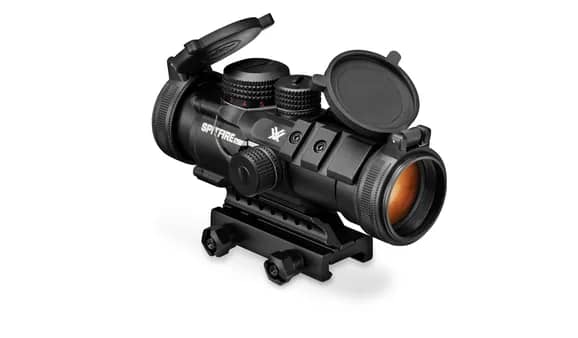 Vortex is among the most popular brands that you'll find on every list of rifle optics. They're known for offering trustworthy scopes that feature strong construction.
The Spitfire 3X is no different than any of their products with respect to quality. However, as you may already know, it's a fixed scope. Does that mean it's not worth it? That's what we're about to let you in on.
Also, we'll be giving you more tactical information regarding its performance, capabilities, and what you should expect from it, so, make sure to check all the aspects we mention so as to make an informed decision.
At a Glance
The Spitfire is a sturdy scope. Out of the box, you'll notice how valuable the aluminum construction makes it look, which adds more to it in terms of durability. Additionally, it's waterproof, so you can use it despite the awful weather.
As for the specs, with fixed 3X magnification, you'll be making the most of the scope while shooting at a range of 200 to 300 yards. Although you might think that this is a bit restricting, you'll be getting great accuracy that outruns the accuracy offered by the majority of variable magnification optics.
Vortex Spitfire 3X – Full Review
Now, let's delve into all the details of each and every aspect so that you can have a clearer bigger picture regarding whether or not the Vortex Spitfire 3X is the right scope for you.
Magnification
As mentioned earlier, the Vortex Spitfire 3X is fixed to this magnification, which obsoletes wrong zooming for close and mid-range targets.
The magnification relies on a prism system rather than the traditional lenses that come with standard rifle scopes. The prism doesn't only collect the light, but it also focuses it on the ocular lens to give you a more compact image.
Moreover, there are multiple anti-reflective lenses that are incorporated within the scope to offer a clearer image whenever you direct the scope towards targets in excessively bright lighting conditions.
Snappy shots are surprisingly accurate owing to the fast-focus eyepiece that allows you to land your shots with great precision. Tactical shooters, as well as hunters, will make the most of this feature, of course, as long as they stay away from long-distance targets.
Reticle
As for the reticle, it's one of the most impressive features that motivate many shooters to opt for the Vortex Spitfire 3X. For starters, you can choose whether you want the crosshairs to have a red or green color. Then you can adjust the brightness of the crosshairs, choosing between five different intensities according to your surroundings and eye-relief.
Add to this the impressive design of the reticle that improves durability as it's etched right onto the prism, ensuring maximum stability even when used with high recoil rifles. This comes at the expense of eye relief as it's as low as 2.8 inches. Yet, with the extended durability and the outstanding performance the scope offers with high recoil weapons, it's not a high price.
Range
Most shooters think of the Vortex Spitfire 3X as an alternative to using red dot sight, rather than being a competitor to rifle scopes that offer high magnification powers. Regardless, using the scope with targets that are closer than 100 yards isn't the best way to go as such targets seem to be over magnified.
Meanwhile, it's better to stay below 300 yards as further engagements lack accuracy and steadiness. Keeping it around 250 yards is a sweet spot that gets you the best of both worlds.
Adjustments
The Vortex Spitfire 3X features numerous turrets on its top and sides to adjust windage, elevation, and illumination.
Although you can't lock the turrets to your preferable measurements, you'll get tactile feedback as you're moving them. Also, they're quite stable, so you won't need to re-adjust them despite being unlocked.
Mounting and Compatibility
Although this scope isn't compatible with all the rifles on the market, it still offers good versatility, and you can use it with most of them.
It comes with a multi-height mounting system that's located right below the chassis. This system allows you to set the height of the scope at 30mm or 40mm according to the weapon you'll use and what you find more convenient.
Additionally, the package includes dual Picatinny rails. They're easy to use, and you can mount the scope on them effortlessly.
Durability
The aluminum body that the Vortex Spitfire 3X comes in is optimal for shock absorption, and hence, it can handle some mistreatment. As with all Vortex optics, the scope's functions don't get compromised regardless of the weather. The Nitrogen purging and o-ring sealing contribute to water and dust-resistance and extend the lifespan of the scope.
Furthermore, the scope features an anodized coating that gives you more advantages. The layer adds way more value to the scope as it significantly minimizes corrosive damage, even if you expose the scope to corrosive factors too frequently.
This doesn't –by any means- imply that you should put your scope to the test and push it to its breaking point. However, it should make you feel more secure about using it in inclement, tough weather.
Price
When considering the price of a rifle accessory, it's not just about being cheap or expensive. It's more about the value that you get for your money. This is why the Vortex Spitfire should be on top of your list. you'll simply get what you pay for as it's reasonably priced.
User Reviews on Amazon
With the exception of the eye-relief, there's nothing to complain about. As highlighted through the review, the scope offers amazing stability, clear, and accurate image, and it's fairly versatile.
What MOA is a Vortex Spitfire 3x prism scope?
EBR-556B MOA reticle
What type of batteries does the Vortex Spitfire 3x take?
CR 2032 battery
Can you use a magnifier with Vortex Spitfire?
You can but it would not be practical and you shouldn't with any prism scope.
Where are Vortex Spitfire made?
Made in China
Final Thoughts
If you're looking for a budget-friendly replacement for your red dot that can help you expand your field a little without breaking the bank, then the Vortex Spitfire 3X is the scope to go for, especially that it gives you extra features that will entirely change your hunting experience.