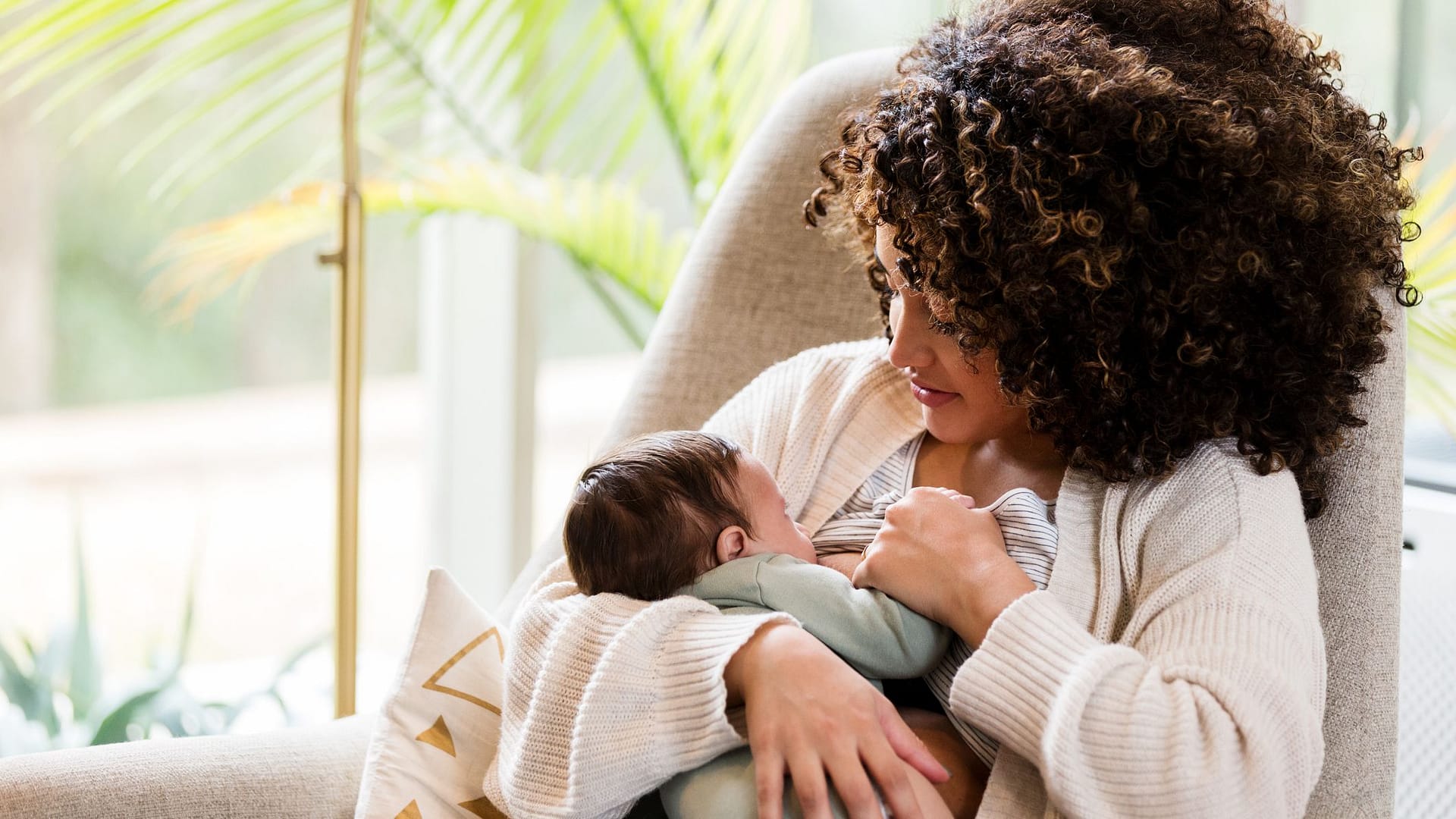 All parents-to-be experience it – the dizzying task of acquiring all the right "gear" before baby arrives. So many decisions! Carseat, stroller, high chair, baby carrier, swaddles, diapers, changing pad, and more. It seems you need to bring home the entire contents of Target just to take care of that tiny new human! One area that may be overlooked is what a new mom needs for comfortable breastfeeding. A few elements can help ensure a new mom has the right tools in place for comfortable and successful breastfeeding.
First, all a new mom really needs to breastfeed is A) a breast, and B) a baby. After all, the human race survived until the modern age with just those essentials! But consider the following list to make breastfeeding easier and more comfortable for the nursing dyad.
Nursing Bras
Nursing bras allow mom to easily unhook, or pull up or down the cup portion of a bra to uncover the breast for baby to nurse. A nursing bra should be comfortable and supportive and fit well. In the days after delivery when mom's milk is coming in and her breasts are engorged, a nursing bra might feel too restrictive, and either no bra at all, or a light, stretchy "sleep bra" may be the most comfortable choice. Once nursing is established, bras that let mom nurse easily are a wardrobe essential. Most moms should avoid underwire and any bra that puts firm pressure on breast tissue, as these can cause blocked milk ducts or inhibit milk production. Bravado nursing bras come in a range of sizes and are comfortable and supportive.
Nursing Tanks
A nursing tank is a tank top with a supportive stretchy shelf inside, with hooks to easily pull down either side to nurse. A nursing tank is a great way to stay covered while nursing in public, or a comfortable alternative to a nursing bra. A nursing tank also allows mom to nurse while keeping her post-partum belly covered. Moms will learn to appreciate the "two shirt method" of nursing. By wearing a regular shirt over a nursing tank, lifting the shirt up and the top of the nursing tank down to uncover the breast for baby, nearly all mom's skin stays covered. Bravado makes comfortable stretchy cotton nursing tanks.
A Refillable Water Bottle
Fun fact: Breastmilk is made from blood, and blood plasma is 92% water! Breastfeeding moms need to stay properly hydrated, and it is common to feel thirsty while nursing. A big bottle of water should always be accessible where mom sits to nurse. A stainless steel bottle like the Kleen Kanteen is a great choice, because it isn't made of plastic so there is no worry about toxic chemicals, and no risk of it breaking when stuffed in the diaper bag, thrown around in the car, or knocked over in the middle of the night! Bonus tip: get a few and place them around the house so mom can always grab one while she holds the baby.
A Comfortable Place to Sit
Gliders, rockers and even fancy Lazy Boy glider/recliners are touted as must-haves for new nursing moms, but really all mom needs is a comfortable, wide, supportive place to sit that is easy to get in and out of, and within reach of essential supplies like her water bottle, TV remote, tablet or smart phone, and burp cloths. I nursed my baby in a glider when he was a newborn, but found we quickly outgrew it as he got longer and my short arms needed to be situated uncomfortably above the arm rests to hold him. I now find the middle of a couch to be the most comfortable place, with a pillow behind me and several on each side of me. Breastfeeding a newborn is a 24-7 job, and mom will spend a lot of time sitting and nursing, so make sure she is comfortable wherever she chooses to set up her "nursing nest".
Reusable Nursing Pads
Reusable nursing pads are made of natural materials like bamboo or organic cotton. They sit inside mom's bra and soak up any leaks between nursings. Typically, milk supply isn't regulated (when mom produces exactly what baby needs to eat and no more) until around baby's third month. Until then engorgement and leaking and spontaneous let-downs of milk may happen frequently. Reusable nursing pads can be thrown in the wash with regular laundry and are chemical free, unlike disposable pads. Bamboobies nursing pads are made of super absorbent bamboo, and are thin so they aren't noticeable under clothing.
A Nursing Pillow
A nursing pillow can be helpful to position baby for nursing, especially in the "fourth trimester" (the first three months of baby's life). I used a "boppy" style pillow and found it helpful nursing my newborn. I found I could position the baby tucked in between me and the pillow and lean back and doze in my chair while nursing, confident the baby wasn't going to fall, and my arms weren't going to wear out from holding him. Some moms find the "my breast friend" style pillow more comfortable, and others just use a firm bed pillow or a smaller throw pillow. When moms are just beginning to nurse many may feel like they can't leave the house without a nursing pillow, but don't worry, once baby gets bigger and nursing is easier, none carry around a bulky pillow! Now when at home I use a two smaller pillows stacked up underneath my elbow to support my toddler's head. When out and about I can just nurse with my baby on my lap. Every mom is shaped differently, and it may take a little while to figure out the best positions for nursing.
Babywearing
Skin-to-skin contact between mom and baby is very important to getting breastfeeding off to the right start. Kangaroo care is placing the baby directly on your chest, tucked inside a stretchy shirt specifically designed to cradle baby. Kangaroo shirts come in many styles and sizes for both men and women, and are made to wear while sitting at home, and can be worn while nursing. Stretchy wraps are one of the best options for comfortably wearing a newborn for long stretches, and for discreet nursing. Because they can be used to hold baby hands-free snugly in an upright position, stretchy wraps are invaluable for babies with reflux. Of the various types of wraps, stretchy wraps are the easiest to learn to use. A ring sling is another option for keeping a new baby close. Ring slings are best used for front and hip carries, and are excellent for discreet nursing. The "tail" of the sling provides a useful cover for privacy or weather protection. Babywearing is also a great way for a non-breastfeeding caregiver to bond with baby.
Support and Education
All breastfeeding moms should have a copy of the book The Womanly Art of Breastfeeding which has answers and info about breastfeeding from birth to weaning. Mom and partner should take a breastfeeding class before baby is born, and mom should attend a La Leche League or other breastfeeding support group while still pregnant, to learn about breastfeeding and where to go for help should it be needed after the baby is born. Perhaps the most critical element for breastfeeding success is supportive friends and family. All the baby's caregivers, especially mom's partner, should be educated about breastfeeding and follow mom's wishes for using or not using any artificial nipples (bottles or pacifiers). Other family members, like grandparents, need to understand the importance of baby bonding with mom and the time involved in breastfeeding. It is common for Dad or other family members to claim they aren't getting enough time with baby, or that they feel "helpless" because they can't calm or feed baby by nursing. Dad or other caregivers can do everything else to help the baby, including changing diapers, bathing, making sure mom has plenty of food and drink, laundry, cleaning, and keeping track of mom and baby's appointments. Some excellent advice I heard (long after I had my baby) was for the grandparents to hold the baby while he or she sleeps. This gives them time to hold the baby without interfering with the breastfeeding relationship. Also keep in mind we have a CLC (Certified Lactation Counselor) on staff at EcoBaby and offer monthly support groups the 2nd Tuesday of every month at 10:30.
What did you find to be the most important things you needed to become a successful breastfeeding mother?