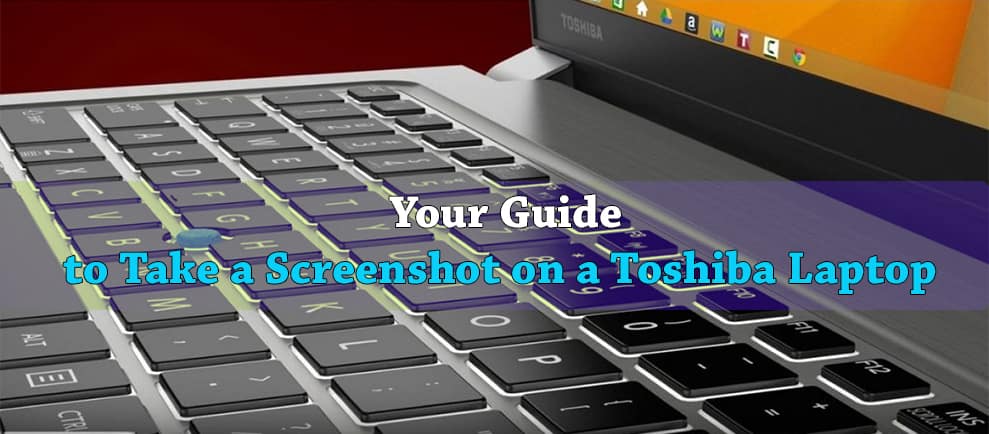 Taking a screenshot on your mobile phone is easier than on a laptop; you simply just press one or two buttons and the screenshot is captured and saved to your Gallery. That's why people find it difficult to capture a screenshot of Toshiba laptops who released their first laptop in 1985; Toshiba has been one of the major players in the market for the past three decades. It is one of the best laptops for office and home use especially if you're looking for something under a low budget. It is cheaper than HP and Dell and still offers you 'Quality'. Sadly, the Japanese company has decided to exit the market recently. But many of us still own a Toshiba laptop, and in this article, you will get introduced to one important feature to use on the laptop.
The screenshot is a feature to capture all the visual content on a computer or a laptop screen.
Toshiba has been one of the most famous laptop brands in the global market. Some malfunctions would pass by us during our daily use of Toshiba computers. What if you want to ask a technician for help? You better take a screenshot of what exactly you are facing difficulty with. Malfunctions go from reporting bugs to some laptop errors, and taking a screenshot would help you address the problem more effectively. But it's not always bugs and errors, it may also be you want to save some funny conversations for the sake of memories, or game scenes especially if you are a gamer blogger! The quality of the screenshot you have captured depends on the laptop display's resolution. For example, if the resolution is 720 HD pixels, then the quality would be the same.
One of the things Toshiba laptops' users struggle with technology is taking a screenshot. And in this article, we will list 4 different methods to capture a screenshot on it, providing you with tips and tricks.
Method 1: Keyboard combinations!
In case you want to take a screenshot of the whole screen of the laptop, then use the keyboard combinations.
First thing, open the exact screen that you want to shoot.
Secondly, press the Windows logo key at the same time as Prt sc.
It will take a screenshot of your current screen and save it on your laptop automatically.
What if one of the keys does not work? Or don't have the button PrtSc on your laptop?
Give FN + Windows logo key + End/PrtSc a try, and a screenshot would be also saved.
Then afterward, go to C: UsersusernamePicturesScreenshots to check your screenshot.
If this method doesn't work for you, or in case you want to screenshot an active window. Rest your back we still got you covered.
Method 2: To take a screenshot of an active window. Luckily, there are two options for that.
Option 1: Use Microsoft Paint
Microsoft Paint is one of the built-in features on your laptop. But you've to take care of such a drawback: the picture might be blurry post resizing.
The method in detail:
In the desktop's search box, type 'paint' and click on it to open it.
Open the window you want to take a screenshot of.
Press the PrtSc key or End key.
The screenshot would be saved to your clipboard.
Press on the 'paste' button in Paint, or its shortcut; Ctrl + V to insert and save your screenshot.
In case you want to either resize the screenshot or crop it, click Resize or Crop for size adjustments.
When you finish the editing process, save it by clicking on File then Save. Choose an exact location/file to save your screenshot on.
Option 2: Use Snipping Tool
It is a screenshot utility that is entrenched in Windows Vista and later versions. Here's how to use the Snipping Tool.
Use the search box on your desktop and type Snipping Tool.
Click on it to open it.
Press 'New' on the panel in the Snipping Tool.
Press and drag the mouse across the region you want to screenshot. Afterward, release the mouse button.
Press 'Save Snip' to save.
Choose your favored location to save the screenshot.
Method 3: Using a robust screen recorder
Some programs would help you take a screenshot like Snagit so that capture video displays and audio outputs.
The method in details:
Download and install Snagit on your Toshiba laptop.
Run it; then sign in.
Click the Capture button.
Press and select the screen you want to capture.
Click the Camera button to save the screenshot.
Use the editor to edit your screenshot.
Save the screenshot on the laptop according to your preferences.
Method 4: Using Faststone Capture
It is also a program that is specialized in capturing screenshots, offering different screenshot modes like 'Capture Rectangular Region', and 'Capture Freehand Region'. Not to mention the editing option being available on it! You can resize, you can annotate, you can also crop. There are also different image formats like GIF and JPEG. The only con is that it doesn't offer a sharing option.
Method 5: Using Awesome Screenshot
A reliable screen capturing tool; also works as a browser plug-in or an extension. It offers a feature of the screenshot that would let you take a shot of a specific area or even for the entire screen. It also offers you the editing option post taking a screenshot. You can add text, shape, or even some blurring effects to your screenshot. The only downside of this tool is relying on the browser for it to work.
How to View or Edit or even Share the screenshot you captured?
Simply, go to your storage and locate the Screenshot or something similar folder. If you want to edit it, open the screenshot via any image editor or Paint.
In case of sharing the screenshot, you can send it via email, upload it on social media or your GoogleDrive.
Editing your screenshot:
Applications usually offer you functions like a blur, erase, draw shapes features to edit your screenshot. Use them according to your preferred options that would suit your screenshot. Some applications offer you advanced options in exchange for extra money. Also, do not regret your money when you purchase an application because downloading a crack from an unknown source leaves your laptop with a threat of viruses that would attack your folders, which is costly to fix, or even worse, losing your data or having to reset your laptop from the very beginning.
To conclude, in this article we have mentioned different screenshotting techniques that you can easily use on your Toshiba laptop. Each method is different, so you can have more options to choose from that fit your preferences and what is available on your laptop. You no longer have to capture it with your mobile phone and risk the quality. If one method doesn't work for you, then just jump to the next one. Choose a trouble-free method that suits you most, whether a direct method, indirect method or even using a Third-Party application.
Last but not least, we hope this guide will be useful for you and has provided you with the perfect needed answer. For more information, you can check the below FAQs for the most questions asked regarding our topic.
FAQs
What if there's no PrtSc button on the laptop?
Simply, use FN + Windows Logo key + End/PrtSc and a screenshot would be taken.
What is a PrtSc button?
Known also as Prnt Scrn or PrtScn; it's an acronym for a key found on most PC keyboards. It is usually located in the same area as the scroll lock key. It can share the same key as the System Request as well.
Where can I find the PrtScn button?
The PrtScn button is usually located in the upper right corner of your keyboard.
What can I do if the PrtScn button isn't working?
You can press Fn key +, Alt +, or Alt + Fn+ PrtScn keys to attempt again.
Moreover, you can also press the Accessories menu's snipping tool.
Where should I download the screenshot applications?
From a reliable source, in order to ensure its safety and not risk any laptop software damage. Search for the application on the Microsoft Store, where most of the applications on it are for free, or access the application's official website to download your desired version. Some features would need money especially if you want to install a more professional version.
What if I can't run the application after installing it?
You should check the operating system (Windows 7, 8, 10, or Vista), its requirements, and computer specifications before downloading it to make sure it is compatible with your device. Then follow the instructions step by step to run it without any bugs.